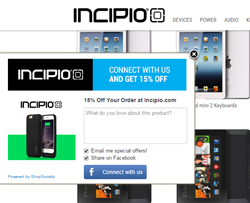 ShopSocially is helping us create valuable social endorsements from our happy customers and boost our sales conversion rate. - Nicole Grodesky, Ecommerce Analyst at Incipio®.
Santa Clara, CA (PRWEB) August 27, 2015
Leading designer and manufacturer of mobile device accessories and technology, Incipio® is using ShopSocially's Social Connect app to generate social endorsements from customers. Site visitors are incentivized to connect with Incipio® on Facebook to share their reasons for purchasing Incipio® products. As site visitors invest their social capital to gain the incentive, they convert at a higher rate. As a result, Incipio® is seeing a conversion rate of 43.87%.
"Innovation in design and technology is the key for Incipio's success. Our expertly engineered and stylish products continuously make our customers happy," commented Nicole Grodesky, Ecommerce Analyst at Incipio®. "ShopSocially is helping us create valuable social endorsements from our happy customers and boost our sales conversion rate."
As users connect, they also share their rich social profile data like birthday, age, gender, Facebook Likes, interests, friends' information. This information when aggregated provides deep insights into social persona of Incipio® site users. ShopSocially platform provides advanced user-targeting features to leverage these insights and create custom campaigns based on users' social profile.
Online retailers attempting offsite social commerce strategies often do not get desired results because users are not looking to transact when they are browsing social media properties. Their propensity to convert is highest when they are on ecommerce site and interacting with the retailer's brand. Onsite social modules like Social Connect leverages this high purchase intent and convert them into customers. When users are offered incentives in return of an investment of social capital in form of Facebook Connect, they feel they have 'earned' the incentive and hence value it more. This results in higher sales conversion rate.
"Onsite social strategy leverages the existing purchase intent of users and amplifies it using social media influence. Such strategy can encourage customers to endorse retailers brand on social media and hence drive word-of-mouth propagation of brand." said Samir Palnitkar, President at ShopSocially. "ShopSocially is thrilled at the success of onsite social strategy of Social Connect app on Incipio® website."
About Incipio®:
Incipio® is the leading designer and manufacturer of award winning mobile device accessories and technology, based in Southern California. Established in 1999, Incipio® is widely recognized for consistently creating state of the art protective solutions for the mobile world. Through an untiring commitment to innovative and original designs, Incipio® is globally recognized for the functional and premium accessories the brand produces. Incipio's products are sold worldwide in leading consumer and electronics retailers, mobile retailers and through http://www.incipio.com.
About ShopSocially
ShopSocially is a premium, social, referral and loyalty platform for marketers. Leading brands like Zazzle, ULTA, Beretta, Dressbarn, Avenue etc. are using the ShopSocially platform to enable referral marketing, visual commerce, customer loyalty, social login, social gamification and other such programs on their site.
ShopSocially has been consistently driving word-of-mouth promotions via social for 1000s of brands and delivering positive ROI for their social media efforts. ShopSocially has won several awards and has also been featured by Facebook in a Social Commerce case study.
Launched in Oct 2010, ShopSocially is a privately held company in Santa Clara, CA. For contact information, please visit http://shopsocially.com/platform/request-a-demo.html.