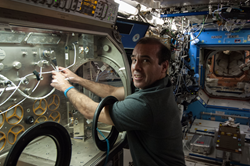 (PRWEB) September 10, 2015
World leading UV LED solution company, Seoul Viosys(CEO Jaejo Kim, http://www.seoulviosys.com) and leading U.S. based short-wavelength UV LED pioneer and manufacturer Sensor Electronics Technology Inc (CEO Emmanuel Lakios, http://www.s-et.com), signed an agreement for joint commercialization and expansion of related sales of the Violeds technology used in the International Space Station.
Violeds technology applied aboard the ISS utilizes a UVC wavelength. The technology facilitates various experimental and sterile environments in the sealed space station and ensures experiment validity and crewmember safety.
Ultraviolet rays are known to be harmful to the human body, yet it is still essential to us. Vitamin D which is a necessity for good health is not supplied by food alone but requires the sun's UV light for its production. Granted UV light can be harmful in cases of long and or high exposure; however, used in a responsible manner, it can be used in applications such as sterilizing bacteria, water and air purification, material hardening and sensor.
Fluorescent lights also emit UV rays albeit in small amounts as to not cause us any harm. Direct flash of UV rays are regulated with tolerance bands in Europe and U.S. It is not recommended to look straight at fluorescent lights for over 30 min within 30 cm distance. UV rays can have many more practical applications in daily life if you know how to use them.
Seoul Viosys was established in 2002, by a technology alliance with the Japanese company Nitride Semiconductor. Seoul Viosys with outstanding technology in Near UV has focused on Deep UV application for its potential for growth and invested on source technology and production capacity. Seoul Viosys has maintained a technology alliance with US SETi, pioneer and world leading Deep UV developer and manufacture. The strategy to partner on UV technology in Deep UV has been in the form of an alliance with SETi for more than 10 years. Since 2005 VioSys has held an increasing equity investment in SETi. Seoul Viosys focused on both R&D and manufacturing can and has several hundred related patents in UV and can produce over 1 Billion devices per year today. Seoul Viosys will expand related products utilized by Violeds and try to down the price by mass production.
Emmanuel Lakios, CEO of SETi, said, "SETi's associated Violeds technology has lead UV LED industry and is proud to have been recognized by NASA and to be a supplier to them for the International Space," also emphasizing, "Seoul Viosys Violeds is environmental friendly; we expected to be applicable to household appliances, automotive, air conditioning, and many more applications, etc, which need sterilizing, but is difficult to do so."
*About Violeds?
Violeds is an advanced and clean technology realized by the collaboration of UV LED solution company Seoul Viosys and deep UV leader SETI to provide a clean and safe global environment.
*About Seoul Viosys
Seoul Viosys is a company specializing in UV LED and Blue LED Chip manufacturing, which Officers and employees from Seoul Semiconductor, LED specialist, founded, invested in, and operate. After its establishment in 2002, the company has focused on UV applications and is contributing the expanded providing of UV LED. Seoul Viosys is continuously committing R&D efforts to develop electronic devices. As of June 2015, Seoul Viosys' total assets are worth USD 314 million, and the company's 700 employees are committed to the development and manufacturing of UV LED products.
*About Sensor Electronic Technology, Inc (SETi)
Founded 1999, Sensor Electronics Technology Inc (SETi) continues to be the global leader in UV LED technology and manufacturing for over a decade. Located in Columbia SC USA, SETi develops, manufactures and distributes UV LED devices, lamps and OEM subsystems. SETi serves global customers in medical, water purification, air quality, Instrumentation and surface disinfection. It offers the widest and largest range of UV LED wavelengths, spanning 245nm to 340nm.
# Inquiry
Name: HS.park
E-mail: Hanseon.park(at)seoulviosys(dot)com