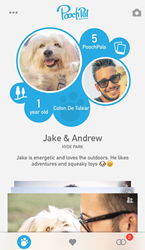 PoochPal - the Friend Finder for Your Dog - sniffing out millions of fur friends everywhere
London, England (PRWEB) August 26, 2015
It's National Dog Day, a very special day for the 78 million dogs in America. And we know that as much as dogs love their owners, they would rather be hanging out with other fur friends. So we are pleased to announce PoochPal – the new social networking friend finder app made specially for dogs.
Developed by London, England based Pooch Technologies, PoochPal was created to make it easier to find new friends and stay in touch with current ones. Use PoochPal to arrange to yap, sniff, wrestle and run with new fur friends within seconds of downloading the app.
It's fun for humans too, because there are PoochPals all over the world. They can send invitations to current pals. Or use the latest location-based technology to help find new pals nearby. Or just connect and comment on PoochPals' photos. It gives them something to do while they're standing around waiting for their fur friends to finish sniffing and chasing.
PoochPal is a real social network, since PoochPals can meet in person – not just in the palm of their paw.
Cesar Millan, The Dog Whisperer says (1): 'Dogs are pack animals. They want to belong to a pack, whether it's made up of dogs or humans, or pretty much any animal. Dogs aren't loners. When they lose a member of a pack, even temporarily, they feel that a part of them is missing.'
According to the ASPCA(2): 'well-socialized puppies usually develop into safer, more relaxed and enjoyable pet dogs. This is because they're more comfortable in a wider variety of situations than poorly socialized dogs, so they're less likely to behave fearfully or aggressively when faced with something new. Poorly socialized dogs are much more likely to react with fear or aggression to unfamiliar people, dogs and experiences.'
According to PoochPal's Founder Dan Bauer 'since the beta test began a few months ago, over half of our users are from the US, mostly from California and New York. 65% of our users are female, many of them using PoochPal to go on walks with groups of people in their neighborhood - not only for social but for safety reasons as well. The user base is growing rapidly and we are on course to establish PoochPal as a must have app for the over 45% of households in America that have 78 million dogs.'
How does it work?
Download PoochPal at the Apple iTunes App Store. Set up a dog profile using email or Facebook. The app helps dog owners connect with others in their area to meet up for play dates and walks. It's simple. Users paw right when it's a dog they want to hang out with, and left if its thumbs – or paws – down. Personalize the profile with a bio and photo album, and specifying the local favorite dog park. When PoochPal connections are nearby, users have the option to get alerts and go on walks together. Notifications work with the new Apple Watch.
About Pooch Technologies
Pooch Technologies commenced operations in the summer of 2014 with the aim to make fun and informative mobile apps for dogs everywhere. PoochPal is the first of several pawtastic services to be launched. PoochPal recently launched in beta with thousands of fur friends all over the UK and US, and growing fast. Our management team comes from technology and the veterinary sciences. They share a passion for dogs, and our pawsome products.
Press Kit: http://www.poochpal.com/press
App Preview Video: https://youtu.be/Qw9R-FpPIp0
Instagram: http://www.instagram.com/poochpal/
Footnotes
1 https://www.cesarsway.com/cesar-millan/cesars-blog/the-loyalty-of-dogs
2 https://www.aspca.org/pet-care/virtual-pet-behaviorist/dog-behavior/socializing-your-puppy