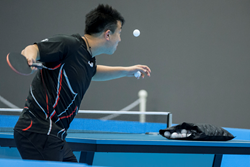 Wilson, NC (PRWEB) August 27, 2015
Butterfly North America is proud to announce that Butterfly has been chosen by Table Tennis Canada to be the organization's official ball for the next couple of years. Table Tennis Canada chose Butterfly over five other reputable table tennis equipment brands that made bids to become the official ball. In its reasoning, Brian Ash, Table Tennis Canada's Director of Marketing, noted that "Butterfly simply had the best bid to support the programs of Table Tennis Canada."
By becoming Table Tennis Canada's official ball, the Butterfly ball will be distributed and seen at the 2015 Canadian Championships from August 25th to August 30th in Quebec. In addition to that, Butterfly balls will be used throughout the year in various Canadian development programs, National Team training, and all major tournaments that take place in Canada.
This news follows another announcement made in May that Las Vegas will be the host city for the 2018 World Veteran Table Tennis Championship. This multi-day event is the largest table tennis tournament in the world as 5,000 players from over 70 countries are expected to be represented. Butterfly has been an official table and ball sponsor for the event and looks forward to seeing a champion crowed in Las Vegas in 2018. Butterfly is proud to be an active participant in these and other table tennis events on the world's largest stage.
Company/Organization Info:
Butterfly is the world leader in table tennis / ping pong equipment and gear. Butterfly was the official table sponsor for the 2014 World Table Tennis Championships as well as the official ball sponsor for the 2013 World Championships. In addition, Butterfly will be the official table sponsor for the 2016 World Championships and the official ball supplier of the 2015 World Championships. Butterfly North America was established in 1960 as Martin Kilpatrick Company by Bowie Martin and Norman Kilpatrick. It became Butterfly North America in 2005. Visit http://ButterflyOnline.com for more information.