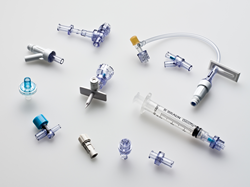 BETHLEHEM, Pa. (PRWEB) August 26, 2015
B. Braun's OEM Division – an FDA-registered, ISO 13485 provider of contract manufacturing services and components for medical devices and other products – offers normally closed large-bore low-pressure check valves designed to prevent the backflow of fluids into the primary IV container during piggyback hookup or bolus injection.
The normally closed valves open automatically when pressure is applied. They are designed for the intermittent injection of fluids while preventing back flow. They feature a crack pressure of 22 inches of water maximum and a back pressure of 30 PSI.
A female luer lock option is also available.
The valves are not made with natural rubber latex. They are available as a bulk non-sterile product or for integration into a custom fluid administration set.
B. Braun's OEM Division provides one of the industry's most extensive selection of valves. Available in both standard and custom options, configurations include needle-free, dual check, aspiration, low pressure, trumpet, normally closed and in-line. With an array of flow rates, materials, and sizes, B. Braun's valves are designed to meet the toughest application challenges.
For more information, contact B. Braun's OEM Division toll free at 866-8-BBRAUN or visit http://www.bbraunoem.com.
About B. Braun's OEM Division
B. Braun's OEM Division (http://www.bbraunoem.com) delivers complete contract manufacturing capabilities focusing on fluid administration and admixture products, kits, valves, catheters and interventional accessories. OEM takes customers' designs from the earliest stages through design prototyping, assembly, packaging and sterilization. The OEM Division of B. Braun Medical Inc. is based in Bethlehem, Pa.
About B. Braun
B. Braun Medical Inc. (B.Braun), a leader in infusion therapy and pain management, develops, manufactures, and markets innovative medical products and services to the healthcare industry. The Company is committed to eliminating preventable treatment errors and enhancing patient, clinician and environmental safety. Guided by its "Sharing Expertise®" philosophy, B.Braun continuously exchanges knowledge with customers, partners and clinicians to address the critical issues of improving care and lowering costs.
The B.Braun Group of Companies in the U.S. includes B.Braun, B. Braun Interventional Systems, Aesculap® and CAPS®. B.Braun's U.S. headquarters is located in Bethlehem, Pennsylvania. The B.Braun Group of Companies employs more than 54,000 employees in 60 countries throughout the world.
To learn more about B.Braun visit http://www.BBraunUSA.com.