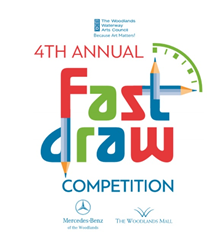 The Woodlands Waterway Arts Council, Because Art Matters is happy to foster the love of arts, in all its forms, in the community as we mentor youth through workshops like this." --Sonya Hillman
The Woodlands, TX (PRWEB) August 27, 2015
The 4th annual Because Art Matters Fast Draw Competition, held at The Woodlands Mall, is on the way Saturday, September 12, 2015. Students will be given drawing materials and 50 minutes to complete a still life drawing as they work against the clock in this fun and interactive competition.
Pre-registration is required for the first 50 participants, 7th and 8th grade students, by September 1, 2015. Registration is now open online at http://woodlandswaterwayartscouncil.org/. The Woodlands Waterway Council (WWAC), Because Art Matters sponsors this annual free contest through its community enrichment programs, and encourages all local 7th and 8th grade students to join in the fun.
WWAC and Because Art Matters Committee member Sonya Hillman has been a part of the competition since the beginning.
"The Woodlands Waterway Arts Council, Because Art Matters is thrilled to offer this fun competition for local 7th and 8th graders for the fourth year now, and grateful to its sponsors Mercedes-Benz of The Woodlands and The Woodlands Mall," she said. "Competitors this year get to fine-tune their drawing skills and walk away with awesome prizes, too, plus their winning artwork will be on display to the public in the Because Art Matter's Spotlight on the Arts Gallery on the 2nd floor of The Woodlands Mall, for one year."
Prizes will be awarded for first, second, third place and honorable mention winners, and an award ceremony will take place immediately following judging on the day of the event. All awarded artwork will be displayed at the Because Art Matters Spotlight on the Arts Gallery at The Woodlands Mall, located adjacent to the food court on the second level.
"The Woodlands Waterway Arts Council, Because Art Matters is happy to foster the love of arts, in all its forms, in the community by mentoring youth through workshops like this," Hillman said.
More information on Because Art Matters and opportunities to become involved is available at http://www.woodlandswaterwayartscouncil.org. Interested persons can also contact Kayleen Barton, community education outreach director, at kayleenbecauseartmatters@gmail.com.
About Because Art Matters
Because Art Matters is the year-round educational outreach arm of the Woodlands Arts Council (WWAC). The organization is focused on four pillars of service in the community and working directly with senior citizen groups, mentoring youth of all ages, people with special needs and special circumstances, and partners in Montgomery County and surrounding areas. Because Art Matters is on Facebook at https://www.facebook.com/WWACBecauseArtMatters.