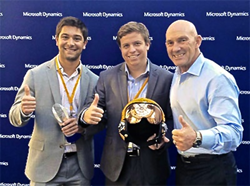 The success we have enjoyed as a company comes directly from our amazing people and our tight focus on vertical industries where we are true experts - John Pence, President of Sunrise Technologies
Winston-Salem, NC (PRWEB) August 31, 2015
Sunrise Technologies, a leader in ERP and BI solutions for apparel, footwear, and furnishings brands, announced today that it has been awarded the Microsoft Dynamics AX Retail Partner of the Year Award for 2015.
The award was announced at the U.S. Microsoft Dynamics FY16 Kick Off event in Nashville, TN in August. The winners were selected based on demonstrating excellence in customer innovation and implementations powered by Microsoft technology.
The company's extensive focus on helping organizations support and drive brand growth into new product lines, channels, and global markets with Microsoft Dynamics AX contributed to winning this Microsoft accolade. Sunrise Technologies, with 20+ years of experience and 100+ successful deployments of Microsoft Dynamics AX, has an industry focus on apparel, footwear, furnishings, manufacturing, distribution, and retail.
"We are pleased to receive our second straight Microsoft Dynamics Partner of the Year award. This is an acknowledgement of the great work we do as a company, and our ability to execute for our clients. The success we have enjoyed as a company comes directly from our amazing people and our tight focus on vertical industries where we are true experts" said John Pence, President of Sunrise Technologies.
Sunrise was previously honored for providing outstanding solutions to consumer brands as the Microsoft Dynamics AX Distribution Partner of the Year for 2014.
"We continue to build momentum in manufacturing, distribution, and retail. Being vertically focused allows us to sell real business solutions that solve global, omni-channel, and complex supply chain challenges, not just technology. Our customers trust us to implement their solutions in the best possible way, and we have the track record to prove it." said Pence.