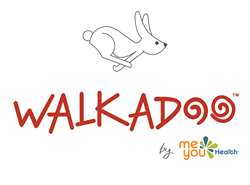 It's now easier than ever to support friends regardless to which device they own.
(PRWEB) August 31, 2015
MeYou Health®, a social well-being company and wholly owned subsidiary of Healthways, Inc., has recently enhanced its mobile walking app, Walkadoo, by including an in-app step tracker.
Walkadoo is a pedometer-based walking program that provides daily step goals that adapt to each person's walking habits. Rather than broadly assign every Walkadoo member 10,000 steps a day (as is typical for many walking programs), Walkadoo sends tailored step goals that change each day.
Whereas most popular fitness trackers sell from $49.95 to $129.95, the Walkadoo app is free. There's no need for new members to purchase or connect a separate device when they join, which means they can start a walking program in minutes. The majority of iPhone users have phones that are compatible with this new feature, and according to a recent study from the University of Pennsylvania, phone trackers are as accurate as wearable devices. Unlike many other activity tracking apps, Walkadoo's in-app tracker won't drain the phone's battery.
Walkadoo already supports popular devices such as Fitbit, Garmin, and Misfit. Now with an integrated step tracker, Walkadoo makes it easier for everyone to interact, compete, and support each other all in one place, regardless of which device you or your friends own.
With its personalized, manageable step goals and in-app step tracker, Walkadoo makes more steps within reach for everyone, regardless of a person's current fitness level or access to wearable devices. This can help them change their health behavior and become more active, one small step at a time.
About Walkadoo
Walkadoo is a wireless pedometer-powered daily activity program that gives people realistic goals that adjust and evolve as the software learns more about what they do.
About MeYou Health
MeYou Health delivers a turnkey program that improves well-being by encouraging people to walk more, eat better, quit smoking, and make healthier decisions. The program focuses on validated engagement, scientifically proven clinical effect, and social features, with supporting services that include incentives integration, eligibility checks, real-time activity dashboards, and quarterly and annual reporting. MeYou Health, LLC is a Healthways, Inc. company.