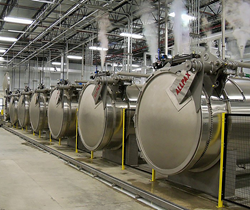 COVINGTON, LA (PRWEB) August 26, 2015
Allpax, powered by Pro Mach, introduces its new energy and water saving system for retort rooms at Pack Expo Las Vegas, September 28-30. The new Allpax offering reduces the cost of water disposal and usage by 50 percent, while making free hot water available for plant operations. A virtual retort room simulation, including a calculator that reports water and energy savings, will demonstrate this new Allpax solution. (Allpax Pack Expo Booth C-2818)
Allpax's cooling water recovery process gives manufacturers the ability to use the hot water from a standard water spray retort cycle during the first stages of cooling to capture hot water, and then in the second stages of cooling to contain the warm water and use it in the next cycle instead of disposing of it. In steam retort operations, a waste-heat recovery system captures steam in a vented tank where it condenses into hot water. This water can be used to supplement hot water in lavatories and cleaning stations or it can be run through heat exchangers for heating food or other processes at the plant. The new system can contribute to a company's desire to achieve LEED certification. There may also be state and federal tax benefits. These new capabilities can also help facilities meet the ISO 50000 energy standard for the continuous improvement of energy management systems and carbon footprint reduction.
"Since Allpax's energy and water saving system is a modular, turnkey design package that is implemented at the outset of a new or retrofit water or steam installation, it eliminates the substantial expense of hiring an engineering firm to create a custom solution after a retort process has been developed," said Greg Jacob, Vice President and General Manager, Allpax. "With Allpax's ability to supply tanks, controls, and valves as well as the instrumentation to determine water temperature, water flow, pressures, and pumps, customers gain the advantage of a cost effective solution from a single source supplier versus a more costly after-the-fact interface from a third party supplier."
Allpax will also demonstrate ProTech by Pro Mach™, the new Pro Mach-wide, state-of-the-art cloud-based remote solutions package that provides overall equipment effectiveness (OEE) data, predictive maintenance, and remote repair services. The system uses a highly secure connection, data monitoring, and reporting optimized for the packaging industry. It gives users access to information on one or multiple facilities via a tablet or smartphone as well as the ability to generate energy and water saving reports. ProTech allows users to quickly identify when an operation is drifting out of specification. It also enables remote servicing, ensuring that problems can be corrected in minutes rather than days.
For more information on Allpax's extensive lines of non-agitation and agitation retorts; control systems; tracking systems for cans, trays, and pouches; replacement parts; and programs for retort room revitalization and automation, call 1-888-893-9277 and visit http://www.Allpax.com or go to the Allpax booth (C-2818) at Pack Expo.
About Allpax Products
Allpax Products, a market leader in retort technology and retort room automation, designs, manufactures, and delivers turnkey sterilization solutions for the food, beverage, pet food, and pharmaceutical industries. The company is recognized for helping customers become more successful by decreasing time to market with laboratory retort equipment, lowering overall labor costs through automation, and increasing the overall throughput of the sterilization process. http://www.Allpax.com
About Pro Mach
Pro Mach is a leading provider of integrated packaging and processing products and solutions for food, beverage, consumer goods, pharmaceutical, and other diverse companies. Through its brands, Pro Mach provides product packaging and processing equipment, PMMI certified training, installation, parts, and service in Bottling & Capping, Primary Packaging, Flexible Packaging, Material Handling, Labeling & Coding, and End-of-Line Packaging.
Pro Mach has a diverse customer base, from Fortune 500 companies to smaller, privately-held businesses worldwide, which depend on reliable, flexible, technologically advanced equipment and integrated solutions. Pro Mach is headquartered near Cincinnati, Ohio, with manufacturing facilities and offices throughout the United States, Canada, Mexico, and Europe. For more information about Pro Mach, visit http://www.ProMachInc.com.