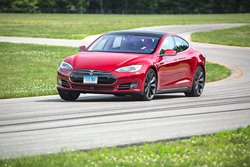 The P85D represents a glimpse into the future of automotive technology in which cars will be more energy-efficient than ever, while still delivering a terrific blend of performance and practicality.
YONKERS, N.Y (PRWEB) August 27, 2015
Surpassing the Tesla Model S' recognition as the best-performing car that Consumer Reports has ever tested is no easy feat, but Tesla's P85D variant has done just that–earning a rare overall test score of 100 points and setting a new benchmark.
When the Model S P85D was evaluated at Consumer Reports' test track in East Haddam, Connecticut, it initially earned a raw 103-point score in a system that by definition doesn't go past 100. Consumer Reports had to make changes to its scoring methodology to account for the car's exceptionally strong performance.
Two years ago, the Model S earned a 99-point score from Consumer Reports; the P85D is the only car to score 100 in the current ratings system. The second highest performing vehicle in the large luxury car category after the P85D is the Mercedes-Benz S550, which scored a 96.
"The P85D represents a glimpse into the future of automotive technology in which cars will be more energy-efficient than ever, while still delivering a terrific blend of performance and practicality," said Jake Fisher, Consumer Reports director of automotive testing. "The Tesla is a shining example of how higher fuel economy standards can be achieved without sacrificing performance."
Consumer Reports engineers found the P85D's brutally quick acceleration makes it the quickest car the organization has ever tested—needing just 3.5 seconds to go from zero to 60 mph. That the Tesla can achieve such performance while being very energy efficient is perhaps the most impressive feature of the car. The 85-kWh battery in CR's original Model S test car gets the equivalent of 84 mpg. Still, Consumer Reports found the faster, higher-performance P85D is even more efficient, delivering the equivalent of 87 mpg. The vehicle doesn't burn a drop of gasoline or produce any tailpipe emissions.
The complete test ratings for the Model S P85D are available online for free at http://www.ConsumerReports.org/tesla.
This quick-and-efficient futuristic car manages to be practical and stylish, as well. What makes the Tesla so successful is how seamlessly it blends into everyday life. It seats five adults, plus two kids in an optional third-row seat. The cockpit feels spacious, especially with no center floor console, which opens up the space between the driver and front passenger. Innovations include a gigantic touch screen that is clear to read and easy to use. It rides comfortably, carves corners with scalpel precision, and stops on a dime—especially with the optional 21-inch wheel package. Gliding down the road, with no disruptive engine noise, it's one of the quietest cars Consumer Reports engineers have ever driven.
Consumer Reports explains the Tesla's 100-point score doesn't make the P85D a perfect car—even at $127,820. For instance, the interior materials aren't as opulent as other six-figure automobiles that the organization has tested, and its ride is firmer and louder than the base Model S. While no other fully electric car comes close to its 200-mile-plus range, a lengthy road trip can be a logistical hurdle if a quick-charging station isn't along the route.
Tesla Motors is still a relatively new company and does not have a long-term track record for reliability. The P85D is too new for Consumer Reports to have sufficient reliability data on to provide a reliability rating; the base Model S had average reliability in the 2014 Consumer Reports annual survey. (Reliability is not factored in to CR's road test scores.)
For live coverage of CR's breaking news, connect on Twitter @ConsumerReports and @CRCars with #carofthefuture, and on Facebook at http://www.facebook.com/ConsumerReports.
Consumer Reports' testing procedures are the most comprehensive of any U.S. publication or Web site. More than 50 individual tests are performed on every vehicle, including evaluations of braking, handling, comfort, convenience, safety, and fuel economy. Roughly 6,000 miles of general driving and evaluations are racked up on each test car during the testing process. CR buys all its test cars anonymously from dealers. Other reviewers base their evaluations on press cars that are hand-picked by the automakers.
Consumer Reports is the world's largest and most trusted nonprofit, consumer organization working to improve the lives of consumers by driving marketplace change. Founded in 1936, Consumer Reports has achieved substantial gains for consumers on health reform, food and product safety, financial reform, and other issues. The organization has advanced important policies to cut hospital-acquired infections, prohibit predatory lending practices and combat dangerous toxins in food. Consumer Reports tests and rates thousands of products and services in its 50-plus labs, state-of-the-art auto test center and consumer research center. Consumers Union, a division of Consumer Reports, works for pro-consumer laws and regulations in Washington, D.C., the states, and in the marketplace. With more than eight million subscribers to its flagship magazine, website and other publications, Consumer Reports accepts no advertising, payment or other support from the companies whose products it evaluates.
— 30 —
AUGUST 2015
© 2015 Consumer Reports. The material above is intended for legitimate news entities only; it may not be used for advertising or promotional purposes. Consumer Reports® is an expert, independent nonprofit organization whose mission is to work for a fair, just, and safe marketplace for all consumers and to empower consumers to protect themselves. We accept no advertising and pay for all the products we test. We are not beholden to any commercial interest. Our income is derived from the sale of Consumer Reports®, ConsumerReports.org® and our other publications and information products, services, fees, and noncommercial contributions and grants. Our Ratings and reports are intended solely for the use of our readers. Neither the Ratings nor the reports may be used in advertising or for any other commercial purpose without our permission. Consumer Reports will take all steps open to it to prevent commercial use of its materials, its name, or the name of Consumer Reports®.
If you would rather not receive future communications from Consumers Union, let us know by clicking here.
Consumers Union, 101 Truman Avenue, Yonkers, NY 10703-1057 United States