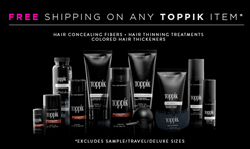 (PRWEB) August 29, 2015
Brands like Toppik, Eau Thermale Avene and Bliss are now available on TheBeautyPlace.com with zero standard shipping costs.
"Before, a threshold of $49.00 was required to qualify for free standard shipping," said Jennifer Ramirez, the public relations manager. "Now select brands and items qualify for free standard shipping for customers regardless of the item's selling price."
With competitive pricing in the e-commerce market for beauty and skin care products, TheBeautyPlace.com hopes to keep providing its customers with even more benefits in their search for quality product and service.
Previously, this would be offered for promotional purposes like weekend sales or 1 day sales. Now, these brands will have this promotion permanently and customers can save $5.95 previously required on all items below $49.00.
"We already are on the lookout for the best brands to provide to our customers," said Ramirez, "But now we hope that giving customers the ability to save on the product and shipping costs will help improve customer relations even further."
Customers can take advantage of free shipping on items from brands such as Obagi, Peter Thomas Roth, Toppik, Eau Thermale Avene, Crack, La Roche Posay and many more as the lines being opened to this benefit is ever-growing. Travel sized items and samples are excluded from the shipping offer.
Shipping Services
Standard shipping orders take approximately 1 to 2 business days to process and are delivered typically 5 to 7 business days after shipment.
The discounted standard shipping rates on items are available only for orders shipping within the United States and territories. Orders shipping to Canada have a $29.95 rate for standard shipping regardless of products ordered or order value.
About TheBeautyPlace.com:
TheBeautyPlace.com is a leading online company of top brands at affordable prices. From skin care, hair care and everything beauty, TheBeautyPlace.com strives to offer current and prospective clients excellent customer service and make available the most coveted beauty products in the industry.
Follow TheBeautyPlace.com:
On Pinterest: pinterest.com/thebeautyplace/
On Twitter: @TheBeautyPlace
On Instagram: @TheBeautyPlace
On Facebook: facebook.com/pages/TheBeautyPlacecom/125435188536
TheBeautyPlace.com Blog: blog.thebeautyplace.com