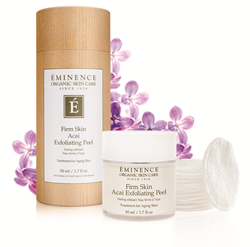 Each solution is specially formulated to target various skin care concerns based on that person's needs without requiring them to take time away from their busy lifestyle
(PRWEB) September 01, 2015
Éminence Organic Skin Care is adding a new product to its popular VitaSkin™ collection of products, the VitaSkin™ Exfoliating Peels. This revolutionary collection of natural peel solutions complements the existing routine for each of the four VitaSkin™ pillars: Firm, Bright, Calm, and Clear.
Formulated with alpha hydroxy acids and natural active ingredients, these results-oriented peels deliver visible results without the need for downtime. Each of the non-irritating peels come in a unique airless pump jar along with 35 dual textured cotton rounds to help users gently remove dead skin cells and uncover a softer and revitalized complexion, effectively primed for the next step in the VitaSkin™ routine. Professional treatments are also available at select Éminence spas across North America.
"What sets our VitaSkin™ Exfoliating Peels apart from competitors is how easily they fit into the client's regular beauty routine," says Boldijarre Koronczay, President of Éminence Organic Skin Care. "Each solution is specially formulated to target various skin care concerns based on that person's needs without requiring them to take time away from their busy lifestyle. Users can also follow up and receive the supplementary in-spa treatment to maximize their results."
The VitaSkin™ Exfoliating Peels, available for purchase on Tuesday September 1st, 2015, include:
Firm Skin Acai Exfoliating Peel
Firming and collagen-boosting peel solution for normal to dry or mature skin types
Suggested retail price, $79
Bright Skin Licorice Root Exfoliating Peel
Pigment lightening peel solution for all skin types, including hyperpigmented
Suggested retail price, $79
Calm Skin Chamomile Exfoliating Peel
Gentle exfoliating peel solution for sensitive and rosacea prone skin types
Suggested retail price, $79
Clear Skin Willow Bark Exfoliating Peel
Deep-cleansing, clarifying peel solution for acne prone skin
Suggested retail price, $79
Whether the concern is reducing skin redness, clearing blemishes, diminishing the signs of aging or erasing age spots and hyperpigmentation, there's a VitaSkin™ solution to help everyone reveal their natural beauty.
About Éminence Organic Skin Care
An award-winning provider of the most effective, professional skin care products in the natural and organic skin care industry, Éminence Organic Skin Care is sold in leading salons and spas in more than 40 countries around the world. Éminence melds herbal craftsmanship and innovation, skin rejuvenation techniques unique to Hungary and hand-picked fresh ingredients to craft premium natural, organic and Biodynamic® skin care that is good for the earth as well as good for the skin. Éminence displays its commitment to the environment by harnessing wind and solar power energy to produce products and geothermal heating in the laboratory, using only recyclable packaging with vegetable-based inks and committing to planting a tree for every product sold. Visit http://www.eminenceorganics.com for more information.
For more information, images and sample requests please contact:
Ali Greenman/Valerie Patruno
Pierce Mattie Communications
212.243.1431
Ali(AT)piercemattie.com
VPatruno(AT)piercemattie.com