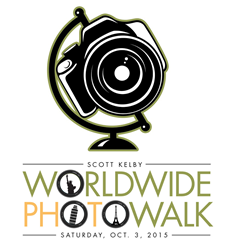 " When I had the idea to host a Worldwide Photo Walk, I never dreamed it would become such a phenomenon." - Scott Kelby
Tampa, FL (PRWEB) August 27, 2015
The concept of a Photo Walk is simple. A group of photographers (organized by a local leader), come together at a central meeting point (usually in a downtown area, but often in other locations that are full of interesting things to photograph; everything from Zoos to old factories to exotic gardens), and for two hours they walk together as a group, taking photos, sharing stories, helping each other, and just enjoying being around a bunch of like-minded, creative people. The walks usually end at a restaurant, bar, or cafe where they can unwind from the walk, maybe share some images, talk shop and get some yummy food and drinks.
The official date for this year's Worldwide Photo Walk is Saturday, October 3, 2015.
Of course, there's a chance for some amazing prizes (if they choose to enter the optional photography contest), including a complete Canon DSLR kit (and loads of other prizes from official sponsors, including Canon, B&H, Wacom, Think Tank Photo, Peachpit and of course, Photo Walk organizer KelbyOne, an online educational community for photographers. A grand prize winner, along with 10 finalists will be selected by KelbyOne CEO, and the world's #1 bestselling photography book author, Scott Kelby.
"When I had the idea to host a Worldwide Photo Walk, I never dreamed it would become such a phenomenon. On the day of walk, just seeing the group shots of photo walkers coming in from all over the globe — from Dubai to Dayton; from Iran to Beijing, from the Philippines to Qatar — and the big smiles on the faces of the walkers, all sharing our common love of photography, gives me great hope, and reminds us that we all have far more in common than we have differences" said Kelby. "It's hard to understand why, just walking around for two hours and taking pictures would be just a big deal, but once you try it, you'll fall in love with it. You're a part of something very special. You're making images. You're being creative. You're helping orphans for goodness sake. You just get swept away" he added.
Participants are encouraged to share as many images as they'd like through the official Photo Walk group on Flickr at flickr.com/groups/wwpw20145 (flickr is once again one of the official Photo Walk sponsors, along with Platinum Sponsor, Canon).
There is no fee to participate, but pre-registration is required at worldwidephotowalk.com - they just search for a local walk in their area, complete the free sign up, and they're ready to be a part of an historic worldwide event (Participants can also connect socially before, during and after the event using #WWPW2015 hash tag on social media channels).
For more information, visit worldwidephotowalk.com, or in the US call toll-free 800-201-7323.
About KelbyOne: KelbyOne is a leading resource for online creative education worldwide, and the best way to learn Photoshop, Lightroom and Photography. For more information please visit kelbyone.com