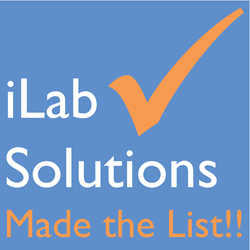 We are privileged to serve those who advance medical research. Our job is to make theirs better, and it looks like we're doing just that.
Boston, MA (PRWEB) August 27, 2015
Inc. Magazine released its annual list of the 5,000 fastest-growing privately held companies in the United States, ranking iLab Solutions as number 1,361 in growth for the three years through 2014. Being named to the Inc. 5000 list designates a company as part of the top 0.1% fastest-growing privately held organizations in the country.
"We are thrilled to make the Inc. 5000 list for 2015," stated Tad Fallows, Co-Founder and CEO. "We are grateful to our customers for the responsibility they have entrusted to us, and we look forward to more shared success in the years ahead."
Inc. selects and ranks companies based on a three year growth period. From 2011 to 2014, iLab revenue increased by over 300%, the number of employees grew from 24 to 60, and the company now supports customers across 12 countries. During this time, iLab also partnered with Vanderbilt University's CORES system, combining the two most widely-used core facility management applications in the world. Through its growth, iLab has remained focused on providing researchers with innovative and effective solutions.
Since its first operations in 2006, iLab has bolstered the research shared resources community by processing over 850 million dollars and 74 million units of service, while helping researchers schedule over 20 million hours on equipment.
"We are proud of our team at iLab and our impact on the scientific community these past several years," added Andreas Hagen, Co-Founder & Chief Software Architect. "We continuously strive to improve our software through deep collaborations with our research partners and by leveraging the experience of our implementation and support teams. We could not have achieved this distinction without the close partnerships we've built over the years ."
In recent months, iLab's growth has continued through new partnerships with organizations such as the University of Texas Health System, École Polytechnique Fédérale de Lausanne, and Johns Hopkins University. This rapid yet consistent growth has helped to firmly establish iLab as an industry leader.
"We're thrilled to make our debut on this list and proud to share this recognition with our customers," said Sriram Gollapalli, Co-Founder & COO. "We're working on some exciting new developments that will continue to bolster our lead in this space that we can't wait to share with our customers."
Over the years, the Inc. 5000 list has included such companies as Microsoft, Vizio, Intuit, and Zappos.com. iLab is honored to join the ranks of some of the nation's most noteworthy companies.
"It's a great honor to be recognized on the Inc 5000 list," Chief Product Officer Keith Dance stated. "The growth we've displayed over the past years only comes about through an intentional dedication to focusing on customers' needs and making their work more efficient. We are privileged to serve those who advance medical research. Our job is to make theirs better, and it looks like we're doing just that."
The entire Inc. 5000 list may be viewed here: http://www.inc.com/inc5000/list/2015/.
More information about iLab can be found at http://www.ilabsolutions.com.
About iLab: iLab Solutions is the global leader in providing web-based core facility management services to academic research institutions. The functionality includes request management, equipment reservation and usage tracking, project tracking, billing and invoicing, and reporting. iLab has extensive experience providing enterprise-level solutions at major research institutions, including integrations with institutional financial systems (e.g., SAP, Oracle, PeopleSoft, Lawson, Banner, IFAS, etc.) and identity management systems (e.g., Active Directory, LDAP, Shibboleth, etc.). iLab's dedicated implementation team and full customer support result in high adoption rates. Core facilities across 125 institutions in North America, Europe, and the Asia-Pacific region rely on iLab, including universities, hospitals, independent institutes, and government labs.