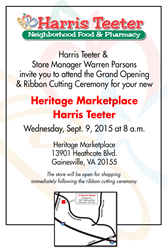 Matthews, N.C. (PRWEB) August 26, 2015
Harris Teeter is proud to welcome shoppers to its Heritage Marketplace location on Wednesday, September 9, 2015 at 8 a.m. as the company celebrates its grand opening with a ribbon cutting ceremony.
In each of its stores, Harris Teeter strives to offer customers an excellent shopping experience, which begins with customer service and features high-quality perishables, variety and selection. Harris Teeter also works to be a true community partner by supporting local schools and youth sports organizations, among other non-profit organizations.
Your Heritage Marketplace Harris Teeter will be open 24 hours, and the Harris Teeter pharmacy will be open seven days per week, as well.
Fast Facts
Store Address: Heritage Marketplace, 13901 Heathcote Blvd., Gainesville, VA 20155
Grand Opening Date: Wednesday, September 9, 2015
Grand Opening Time: 8 a.m., ribbon cutting, store open immediately following
Store Hours: 24 hours
Pharmacy Hours: 9 a.m.–9 p.m. Mon.-Fri.; 9 a.m.–7 p.m., Sat.; 10 a.m.–6 p.m. Sun.
Square Footage: 53,000
Check-Out Lanes: Eight checkouts and four express checkouts
Features and Departments
Full-service Butchers Market with Rancher Beef, HT Reserve Angus Beef and HT Naturals Beef • Full-service Fishermans Market • Shrimp Party Trays • Farmers Market Produce • Full-Service Floral and Custom Floral Arrangements • Produce Party Trays • Fresh Fruit Bar • Gift Basket Program • Full-service Fresh Foods Market Deli/Bakery • Sushi • Self-Serve Olives • Salad Bar • International Cheeses • Chef Prepared Foods To Go • Custom Cakes and Ice Cream Cakes • Hot Asian Bar • Sub Shop • Made to Order Sandwich Program • Artisan Breads • Italian Meat Selection • Boar's Head Meats and Cheeses • Fresh Made Salads • Fresh Made Pizza • Home Meal Replacements • Organic, and Natural Foods • Specialty Foods • Wine and Beer • Bulk Candy • International and Specialty Foods • Gluten Free Section • Pet Center • Pharmacy • Free Blood Pressure Testing • Drug Interaction/ Allergy Screening • Double Coupons • Club 60 Discount • Carryout Service • Parcel Pick-up • USCAN • Western Union • Coinstar • Rug Doctor • Express Lane Online Shopping • Cigars • Red Box DVD Rental Kiosk • Starbucks •Sit-down eating area • ATM