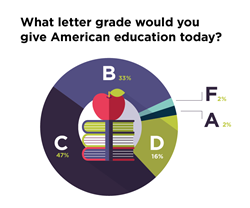 "The hundreds of teachers we serve today continue to teach us about life. While they don't go into the classroom to teach anymore, the teachers living in our communities provide valuable wisdom and lesson plans that we can continue to learn from."
LAKE OSWEGO, Ore. (PRWEB) August 26, 2015
For many, back to school season triggers memories of being a student, but Holiday Retirement is more interested in the memories of a different group who know the pangs of first day jitters: retired teachers. The nationwide manager of senior living communities recently surveyed more than 300 retired teachers living at Holiday Retirement communities to gauge their thoughts on everything from the state of education today to who they would rank as the greatest educator of all time.
"Teachers have a special place in our hearts, as they helped shape us into the people we are today," said Jamison Gosselin, vice president of marketing, communications, and resident enrichment at Holiday Retirement. "The hundreds of teachers we serve today continue to teach us about life. While they don't go into the classroom to teach anymore, the teachers living in our communities provide valuable wisdom and lesson plans that we can continue to learn from."
The most surprising of the survey responses stemmed from the question "What letter grade would you give American education today?" A whopping 47% of residents surveyed voiced satisfaction with the current school system, giving it a C, whereas a meager 2% awarded an A letter grade.
"Some of the results definitely surprised us," shared Gosselin, "but that's one of the reasons why we survey our residents: to understand their opinions instead of operating under our preconceived notions." Additional information about our retired teachers and their inspirational stories can be found on Holiday's Back to school: Thank a Teacher! Web page.
The residents' responses also yielded touching reminders as to why teachers are some of the most influential members of society. "Some of the retired teachers we heard from are nothing short of inspirational," said Gosselin. "It's easy to forget the impact teachers have had on our lives, but reading through the residents' quotes and learning their stories really bring their contributions into perspective."
About Holiday Retirement
Since 1971, Holiday Retirement has endeavored to provide its signature "Holiday Touch" to residents and their families. Today, Holiday is a trusted name in senior living and provides security, comfort, and value to independent seniors seeking a fulfilling lifestyle. Holiday operates more than 300 retirement communities, making it the second largest senior housing operator in the United States. For more information about Holiday Retirement, please call 800-322-0999 or visit http://www.holidaytouch.com.
###
Media Contact:
Brian K. Fawkes
Holiday Retirement
brian(dot)fawkes(at)holidaytouch(dot)com