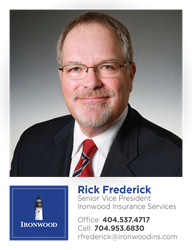 With Rick's extensive experience and expertise, he will be a valuable asset to our team and especially our Private Equity clients
Atlanta, GA and Charlotte, NC (PRWEB) September 02, 2015
Atlanta based Ironwood Insurance Services is an insurance brokerage firm specializing in serving the middle market in the areas of risk management, property and casualty insurance brokerage and employee benefits brokerage and consulting. The firm, with a significant client base in the Private Equity Sector, announced today that it has expanded to North Carolina with the opening of its Charlotte office and its new Energy & Power Generation Practice.
Ironwood's Private Equity Practice currently represents over 50 equity investors across the country. The firm has performed over one thousand diligence projects for private equity investors covering companies in almost every industry, in all 50 states and around the world. Rick Frederick is the newest member of Ironwood's Private Equity Group and will lead the firm's Energy & Power Generation Practice.
As Senior Vice President, Rick will be based in Charlotte, North Carolina.
Ironwood's Managing Partner, Will Underwood, states "Rick has almost 40 years' experience working with large national and multinational Fortune 1000 and private equity clients. He has facilitated both domestic and international insurance placements and provided merger and acquisition due diligence and risk management advice to clients in the manufacturing, technology, construction and power generation/transmission industries."
Underwood continues, "With Rick's extensive experience and expertise, he will be a valuable asset to our team and especially our Private Equity clients. We are thrilled to have Rick on board and excited as well to now have local presence in Charlotte."
Prior to joining Ironwood Insurance Services, Rick gained account management and underwriting experience with Alexander & Alexander, Marsh & McLennan, and Liberty Mutual Insurance Company. He was a partner and senior leader at Palmer & Cay, the second largest privately held insurance and risk management services firm in the country, from 1990 until that firm's acquisition by Wachovia Insurance Services in 2005. Rick remained with the succeeding firms, Wachovia and Wells Fargo Insurance Services, until joining Ironwood in 2015.
While at Palmer & Cay/Wachovia/Wells Fargo, he served as a senior member of the collective firms' Financial Sponsors Group and was the South Region Power Generation Practice Group leader. In these roles, he led a mergers/acquisitions due diligence team that conducted on average 12 to 18 diligence projects annually. As part of this process, post transaction risk management and insurance programs were routinely designed, implemented and administered.
About Ironwood Insurance Services: Ironwood Insurance Services is a privately held firm providing insurance brokerage, surety, risk management, employee benefits consulting and human resources outsourcing services. Our firm was founded on the principles of teamwork, integrity and service to others. We recognize that our people are our most valuable asset and believe that great people deliver excellent customer service. Our success is measured by the amount of positive impact we have in the lives of our clients, employees, shareholders and community. To learn more about Ironwood Insurance Services, please visit http://www.ironwoodins.com.