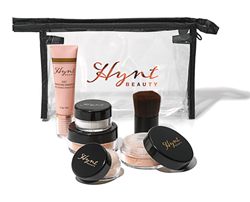 "Our promise of Honesty, Confidence & Reliability in everything we create, say and offer to you."
New York, NY (PRWEB) August 31, 2015
Natural Beauty Concepts, Inc. is proud to announce the launch of its newly rebranded skin-healthy, non-carcinogenic, vegan and organics-based makeup and skincare collection: Hynt Beauty. Formerly known as Christopher Drummond Beauty, a 7+ year old cult-favorite cosmetics line known for its pure ingredient formulations and creamy smooth textures, the owners felt that a visual update and a repositioning of the brand and its messaging were necessary to take the line to where they ultimately wanted it to go: a global, prestige line of luxurious cosmetics that also happens to be free of anything that is known to be or questioned to be harmful to you and your health. Now, the same skin healthy formulations are elegantly packaged with smart application functionalities, have an easy to navigate and informational new website that provides details on the ingredient benefits to skin, and even include new additions to the line that further accentuate the company's original philosophy of providing beauty products that you can love and trust. Hynt Beauty proves that having naturally gorgeous skin and a beautiful look does not require any compromise on the purity of the formulation nor the texture and look of each product.
The launch comes at a time when women and the cosmetics industry acknowledge the value of having good natural and organic ingredients in everyday beauty items but are still lacking natural color makeup and skincare lines that can match the luxurious texture, long-lasting efficacy, sophisticated pigmentation and polished finish offered by traditional premium beauty brands. Hynt not only meets the highest standards in ingredient efficacy and purity, its quality, finish and presentation are equal if not surpasses many of the prestige brands available today.
Focused on achieving and maintaining the beauty and well-being of the skin, Founder Meryl Marshall developed the line as she was battling breast cancer. Following her diagnosis, she became very conscientious of the ingredient list on all of her favorite prestige beauty products and found that the very ingredients that made the product feel and smell luxurious were often toxic, irritable for sensitive skin and potentially carcinogenic. Unfortunately, she found that very natural ingredient conscious makeup did not have the fine velvety smooth textures, attractive packaging nor polished finish that she desired. Thus, Hynt was born as an ultra-prestige yet skin healthy line that women can wholeheartedly trust and relish using every day.
The launch collection features a wide range of over 80 different sophisticated and versatile shades encompassed within 18 carefully formulated products that range from an instantly color matching creamy treatment concealers, all natural Titanium Dioxide and Bismuth Oxychloride free powder foundations offered in 7 skin tones that go from the most porcelain to rich chestnut hues; an incredibly sheer, organic serum + primer + sunblock-in-One; a vegan irritant-free lip gloss with colors that flatter no matter the age or skin tone, and a silky smooth lash conditioning and volumizing mascara that will not irritate sensitive eyes.
Hynt Beauty will continue to introduce new products and colors into the line that will be fitting for all ages, skin tones and skin types. To learn more about the upcoming Fall and Winter 2015 product launches and exclusive sets, please follow us on social media or contact Emi Kamiya at emi(at)HyntBeauty(dot)com or call (866) 221-0375.
For more information on Hynt Beauty's philosophy, our 40+ organic ingredients and the launch collection, please visit http://www.HyntBeauty.com, or contact us.