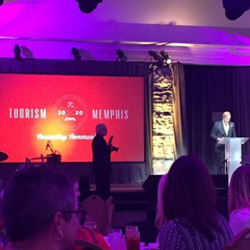 "With 35,000 jobs currently in the tourism and hospitality industry, it's our vision to grow and maintain a healthy tourist economy to continue to bring more jobs to Memphis."
Memphis, Tennessee (PRWEB) August 31, 2015
The Memphis Convention & Visitors Bureau, the official marketing and tourism organization for Memphis and Shelby County, is a private, not-for-profit, membership organization dedicated to building the local economy and the community's positive image through tourism and convention development, major events and destination marketing.
On behalf of the Memphis Convention & Visitors Bureau, Kevin Kane proudly announced Tourism 20/20, a new initiative that focuses on building communities to promote tourism in the Mid-South.
Tourism 20/20 showcases tourism as a priority in Memphis and Shelby County by developing programs that increase industry coordination, improve infrastructure, enhance visitor experience and educate residents on the economic impact tourism has on our community.
By providing a unified strategic direction, Tourism 20/20 will promote Memphis as a desirable destination for leisure, business, event and meeting travelers.
Growing communication in the tourism community is key to creating a well-oiled machine to push Memphis forward as a destination. The annual meeting will discuss the importance of industry involvement and the specific strategies composing the initiative.
Quick Facts

More than 10 million visits a year to Memphis
35,000 jobs in the tourism and hospitality industry in Memphis
$3 billion annually in visitor expenditures
Average leisure traveler spends $340 a day in Memphis
Average domestic traveler stays for 2.7 nights
Average international traveler stays for 3-4 nights
300 European tour operators feature Memphis in their programs
Memphis has more than 60 tourist attractions, 28 of which saw a combined total of more than 3 million visitors in 2014
The Memphis Cook Convention Center hosts over 500,000 visitors annually