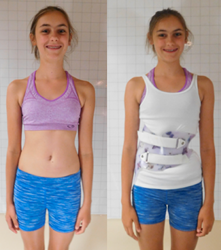 Parents who thoroughly research scoliosis bracing will understand why the Gensingen Brace® for scoliosis is the new 'gold standard' in bracing.
Boston, MA (PRWEB) September 09, 2015
Scoliosis Bracing Innovations, Inc., Woburn, Massachusetts, announced today an agreement with Koob ScoliTech of Germany to distribute Koob's Schroth method compatible braces for scoliosis and kyphosis. Scoliosis Bracing Innovations will be the exclusive distributor in the U.S. and Canada. Koob's flagship product is the Cheneau-Gensingen Brace® (GBW) for scoliosis.
The Gensingen Brace® is a revolutionary scoliosis brace with a record of improving scoliosis for the adolescent patient at risk of progression. The brace offers the potential for curve reduction for adolescents who are fit prior to a major growth spurt. Moreover, older adolescents and those with scoliosis curves in the range where surgery is often recommended are also achieving favorable results, without surgery.
The brace is also designed to provide visible postural improvements for a more balanced appearance. For adults, the brace is used to manage spinal collapse and pain. Dr. Hans-Rudolf Weiss, brace developer, has published results demonstrating favorable bracing outcomes. U.S. and international brace providers have been consistently duplicating those results. Standardization of the brace design process minimizes the risk of production error and fit issues - contributing to the consistently high success rate of the Gensingen Brace®.
Each Gensingen Brace® is custom designed via a CAD/CAM library according to each patient's spinal curve pattern. Brace attributes include three-dimensional spinal correction, improved patient comfort and exceptional in-brace corrections. According to Dr. Marc Moramarco, principal at Scoliosis Bracing Innovations, Inc., the Gensingen Brace® elevates bracing standards and offers distinct advantages over other scoliosis braces. Notable differences are that the Gensingen Brace® is an asymmetric brace, it strives for overcorrection and Cobb angle improvement, it is designed to use less material and offers strategically placed openings for Schroth method rotational breathing compatibility.
Up to now, in the U.S., the Gensingen Brace® has been available exclusively through Dr. Moramarco. With this agreement, he looks forward to expanding brace availability by increasing the network of select practitioners in North America who offer the brace. This will allow more patients access to what he believes is the most innovative, effective scoliosis brace available anywhere. Dr. Moramarco has worked for more than a decade to improve the quality of nonsurgical treatment options for scoliosis. By offering the highest bracing standard in conjunction with his Schroth method immersion program, patients have access to a potent two-pronged approach to scoliosis management with the greatest potential to positively affect scoliosis.