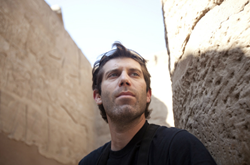 I want to continue to do assignments that push me mentally and physically in an effort to tell the stories of people that don't often get the attention they should.
Eagle, Colorado (PRWEB) August 27, 2015
Award-winning lifestyle and portrait photographer Vance Jacobs will travel to Colorado's high Gore Mountain Range this September 18-20 to lead a team documenting national non-profit World T.E.A.M. Sports' inspiring Adventure Team Challenge, featuring disabled and able-bodied athletes.
A skilled photographer whose work has been published in Backpacker, Esquire, Outside and Bicycling Magazines, Jacobs was inspired to help document the Challenge owing to his family's long military history. An uncle who lost a leg while in service in Vietnam, and underwent more than 40 surgeries as a result, has been influential. "Most members of my family have either been in the military or the defense industry," said Jacobs. "My dad was a stateside medic during Vietnam and then went into the defense industry."
The 2015 Challenge at the remote Rancho del Rio Resort includes both injured military veterans and civilians, who participate alongside able-bodied athletes in off-road cycling, rafting the Colorado River and in climbing and rope sports, including zip lining. Each participating team of five includes two disabled athletes, one being a wheelchair user. The success of each team depends on the strengths and cooperation and strategy by the athletes.
An athlete himself who has successfully completed triathlons, including California's IRONMAN-length Vineman Triathlon, Jacobs also has photographed several outdoor sporting events. These include the White Water World Championships in West Virginia and a 24 hour race "where half the participants had to be pulled because the event organizer thought they would be clever and have participants paddle upstream."
In its ninth year, the Adventure Team Challenge provides persons with disabilities an opportunity to explore and enjoy the high Colorado back country. Each participant completes all stages of the Challenge – athletes are not allowed to sit out a segment or take shortcuts.
Jacobs is used to undertaking difficult and challenging assignments in his work as a professional photographer. "One of the most challenging assignments I have ever done was walking a section of the U.S. - Mexico border for Esquire magazine," recalled the San Francisco-based photographer. "A writer and I started at the Pacific and headed east over some pretty steep, often hot and sometimes traitorous terrain. Up to this point, the assignment has taken us to Ajo, Arizona which is 300 plus miles from the Pacific Ocean."
Another assignment led Jacobs to "photographing Marines going through Raider Spirit Week - their version of the SEALS' Hell Week - in an effort to gain entry into MARSOC. I spent days and nights with them as they went into the swamps and woodlands around Camp Lejeune. At night, I would wear night vision and communications just like the Marines."
"Photographing and doing video projects for Fortune 500 companies and global nonprofits and foundations," Jacobs reports his work has led him to "close to 40 countries and all 50 states." The Adventure Team Challenge, however, will be his first experience in photographing athletes with disabilities. "I want to continue to do assignments that push me mentally and physically in an effort to tell the stories of people that don't often get the attention they should."
The 2015 Adventure Team Challenge Colorado from World T.E.A.M. Sports is supported through sponsors and partners including American Portfolios Financial Services, Deven's Recycling, Pearl Meyer & Partners, Skanska USA, TimeCapital and Timberline Sports. Additional financial support is provided by Jim Noland, George Puskar and James Benson.
About World T.E.A.M. Sports
World T.E.A.M. Sports is a 501(c)(3) not-for-profit organization chartered in North Carolina and headquartered in Holbrook, New York. Since 1993, World T.E.A.M. Sports has organized athletic events for disabled and able bodied citizens – mountain climbing, water sports, bicycling, and more. Our events change lives through sports by: (1) Building self-confidence and physical fitness for the disabled participants; (2) Participating disabled athletes provide a role model for other individuals with disabilities, encouraging them to take up physical activities; (3) The disabled become a moving inspiration to other participants and to spectators when they see that individuals with disabilities can meet challenges beyond anyone's imagination; and (4) The disabled and able-bodied participants learn to work as a team to overcome physical, emotional and technical challenges.