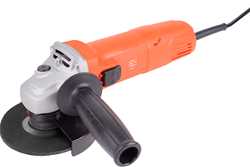 Small - Powerful - Affordable
Pittsburgh, PA (PRWEB) October 20, 2015
FEIN has released a new 4.5" compact angle grinder that will add to its quality line of industrial grade angle grinders. This new compact and powerful design brings affordability to the line of FEIN angle grinders without compromising quality. With a powerful 760 watt motor and long-life brushes, the new FEIN WSG 7-115 will prove to be a solid choice in the 4.5" angle grinder category.
Small but mighty:
The new WSG 7-115 angle grinder is a compact design boasts a powerful 760 watt motor designed for maximum speed and torque under load.
Getting a grip is easy:
The smaller grip size and light weight allows for easier grinding with minimal fatigue even after long operation times.
Long lasting durability:
FEIN designs all their grinders with long lasting brushes and electronics dust protection to ensure longer life of the grinder itself. The new FEIN WSG 7-115 also comes with a standard one year warranty along with an additional two years once the product is registered.
Economical quality:
The new FEIN WSG 7-115 will be introduced as the lowest costing grinder in the quality rich FEIN series. These grinders are now available in the US for purchase.
FEIN has more than 100 years of experience in developing electric grinders. The new WSG 7-115 grinders are superb for all metalworking applications, and will continue the FEIN tradition of quality and durability.
FEIN die grinders are available from specialist retailers. Find suppliers at: http://www.feinus.com/en_us/dealer-repair
You can also find FEIN on facebook and YouTube:
http://www.facebook.com/FEINUS
http://www.youtube.com/user/FEINPOWERTOOLS
The company:
C. & E. FEIN GmbH invented the world's first power tool. Wilhelm Emil Fein founded the company in 1867. FEIN invented the first power tool – the electric hand drill – in 1895. Today this long-established company is a power tool manufacturer with an international reputation. This first-class German manufacturer develops and produces application solutions for the metalworking, interior construction, and automotive sectors and is the specialist for professional and extremely reliable power tools for industry and trades. FEIN holds more than 800 active property rights including approximately 500 patents and patent applications. FEIN products are distributed worldwide through 19 international subsidiaries and more than 50 agents. For over 140 years, the FEIN brand has stood for application solutions and premium quality. http://www.feinus.com
Press contact:
Tracy Nedzesky
FEIN Power Tools Inc.
1000 Omega Drive
Suite 1180
Pittsburgh, PA 15205
Phone 412 922 8886
E-mail: tracy.nedzesky(at)feinus.com