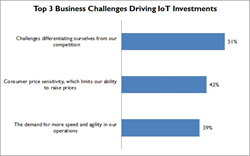 IoT is more about driving differentiation than about saving money
Miami, FL (PRWEB) August 27, 2015
Retail Systems Research, LLC today released its findings from its 2015 Benchmark Report, The Internet Of Things In Retail: Great Expectations. The report, based on a survey of 138 retailers, found that retailers with the best sales have a sharper focus on new IoT technologies – much more so than their average and underperforming peers. The research is available for free download (registration required).
"The most startling outcome of our research was retailers' strong interest in using IoT - not for operations or maintenance - but for connecting with consumers," reports Steve Rowen, managing partner at RSR Research and co-author of the report. "For now, at least, it's more about driving differentiation and revenue than about cutting costs."
Key Findings include:

42% of retail respondents strongly agree that the Internet of Things will drastically change retail in the next 3 years
72% of retail respondents report they have IoT projects of some kind going on right now, even if that's only educating themselves about the opportunities
Still, 53% of retail respondents say that their business leadership doesn't yet understand the benefits of IoT technologies
The Internet Of Things In Retail: Great Expectations contains analysis of the business drivers, opportunities, and organizational constraints surrounding Internet of Things technologies in retail. It also offers baseline recommendations for navigating this brave new world for retailers. The report is part of RSR Research's ongoing efforts to provide market intelligence on retail technology trends, is sponsored by AT&T, is supported by Software AG, and can be downloaded here:
http://www.rsrresearch.com/2015/08/20/the-internet-of-things-in-retail-great-expectations/
About RSR Research: Retail Systems Research (RSR) is the only research company run by retailers for the retail industry. RSR provides insight into business and technology challenges facing the extended retail industry, and thought leadership and advice on navigating these challenges for specific companies and the industry at large. To learn more about RSR, visit http://www.rsrresearch.com.
Contact:
RSR Research, LLC
Linda Wolfe, 774-284-4679
lwolfe(at)rsrresearch(dot)com