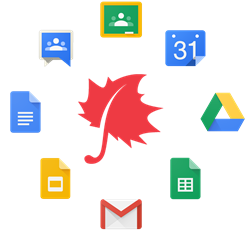 "With more technology-related resources being used in the classroom, to be able to connect those resources...becomes very valuable."
Fremont, Nebraska (PRWEB) August 31, 2015
Sycamore Education, the provider of web-based school information systems, has released new, unprecedented integrations with Google that provide a higher level of convenience for teachers and students. Sycamore's new integration with Google Apps for Education will allow schools to create Google accounts for students and staff, sync up existing Google users, and add a Google Classroom from within Sycamore School, the company's PK-12 education solution.
Since its inception in 2001, Sycamore has aimed to offer cloud-based opportunities to its schools located across the United States and around the world. The rise of Google Apps for Education has made it even easier now for others to see the benefit that cloud-based technology can bring.
Initially, Sycamore integrated with Google Mail, Google Maps, and Google Books. Then, they expanded to Google Drive and Google Calendar. With the latest enhancements, Sycamore can provide additional functionality to Google Apps for Education schools within their school information system that is unmatched by any other product on the market.
"This additional integration with Google holds great potential for our schools," says Glen Ellis, CEO of Sycamore Education. "With more technology-related resources being used in the classroom, to be able to connect those resources with the school information system at the classroom and school levels, and have them work together, becomes very valuable."
Schools currently using Google Apps for Education and those looking to transition to being a Google Apps for Education school, benefit from this integration. Google accounts can be created for students and staff from within Sycamore, or existing accounts synced. The benefit of this is a streamlined process that saves time, since it can all be done within Sycamore.
Additionally, schools are able to create, sync, or edit organization units and groups. Organizational units in Google allow schools to assign permissions pertaining to Google Apps for Education to students and employees by placing those users into organizations and sub-organizations. Groups provide the ability to categorize Google Apps for Education users as needed, and then each group is assigned an email address to simplify communication.
Google Classrooms can also be created and connected from inside Sycamore, using classes and class rosters set up in the system. Google Classrooms that are already made can simply be synced so that they are available to students directly from their Sycamore class page.
Connecting their Sycamore class page with their Google Classroom site allows teachers to be able to utilize the tools offered by each program, without needing to take extra time adding students and inviting them to Google Classroom. Sycamore simplifies those steps by using the information already available in the system.
Partnering with Google continues to provide Sycamore Education with opportunities for advancement and expansion. Ellis continues, "As we continue growing this partnership, we look forward to seeing what this powerful integration will do for our schools and sharing in their success stories."
About Sycamore Education
Sycamore Education is a 100% web-based school information system. Sycamore works with schools across the United States and in over 40 countries around the world offering a complete system for one low price, no modules or add-ons to purchase. The most innovative system on the market, Sycamore offers worry-free data storage, turn-key data migration, and superior, unlimited customer support.
For more information visit http://www.SycamoreEducation.com or call (866) 757-4968.