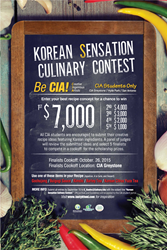 (PRWEB) August 28, 2015
The contest is open to students of the Culinary Institute of America, and all students are encouraged to submit their creative recipes featuring Korean ingredients. This contest is a great way for students to demonstrate the skills they've been learning in school including, recipe development and cooking under pressure. Contestants must submit their recipe concepts by September 15th, and 5 finalists will be selected to participate in the cook-off at CIA Greystone by a panel of judges. The finalists will work one on one with a CIA Instructor to expand on their concept, develop a recipe and design their plate presentation. The five finalists will compete for scholarship prizes totaling $17,000.00.
The aT center is leading the distribution and innovation of Agro-Fisheries products from Korea and is hosting the event to excite new Chefs with the distinct flavors and techniques of Korean ingredients. In recent years Korean food has become one of the hottest trends in foods and traditional foods like kimchi and bulgogi are making mouths water all over the United States. The aT center supports trade and exports authentic Korean foods all over the world. By promoting this event with the CIA, aT center hopes to let new Chefs develop an understanding of Korean flavors and learn how they can implement those flavors into their food. By partnering with the CIA, aT center knows that the Chefs in training at the CIA are creative and skilled and ready for the cook-off challenge.
The finalists will prepare their a la carte recipe using one of the following authentic Korean ingredients; barley tea, kimchi, bulgogi sauce or gochujang. Students can use traditional foods from Korea for inspiration or play with modern elements to create something completely new, but that still looks and tastes amazing. Finalists will have to be creative and adaptable in the cook-off where they will prep and cook their recipes in front of an audience and judges. The competition should be intense as the finalists compete for scholarship awards with the 1st place winner receiving $7,000, 2nd $4,000 ,3rd $3,000, 4th $2,000, and 5th $1,000.
The finalists will be judged on originality, creativity, integration of authentic Korean flavors, culinary skill and presentation by celebrity guest judges including Marja D Vongeritchen of Kimchi Chronicles and Chef Hooni Kim of Han Jan in New York.
To find out how to attend please go to http://www.tastykfood.com