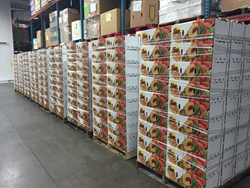 Matthews, NC (PRWEB) August 27, 2015
On Tuesday, Harris Teeter and its vendor Titan Farms, donated approximately 16,200 pounds of peaches to Second Harvest Food Bank of Metrolina to help feed the hungry in the local community. This donation was made possible thanks to Titan Farms' third annual Peaches with a Purpose program.
Titan Farms, the largest peach grower on the east coast, created Peaches with a Purpose to help feed the under-served while bringing attention to the problem of food insecurity. During the program which took place in August throughout all North Carolina Harris Teeter locations, the company along with Titan Farms donated a percentage of all peaches purchased to the food bank. The total donation is in excess of 34,000 pounds of peaches and was split between Second Harvest Food Bank of Northwest North Carolina in Winston-Salem, N.C. and Second Harvest Food Bank of Metrolina in Charlotte, N.C.
Second Harvest Food Bank of Metrolina serves 19 counties and provides food for almost 650 partner agencies including soup kitchens, emergency pantries, residential care facilities, homeless shelters, senior programs and low income daycares. In its fiscal year 2013-2014, Second Harvest Food Bank of Metrolina distributed over 45 million pounds of food and other essential grocery products.
"On behalf of the hundreds of thousands of children, seniors and families who struggle daily with hunger in our region, we want to thank Harris Teeter and Titan Farms for their commitment to help end hunger," said Kay Carter, chief executive officer of Second Harvest Food Bank of Metrolina. "Produce is an item that those living in poverty can least afford but need as part of a healthy diet. We are very grateful for this support."
"We want to thank Titan Farms for supporting local hunger relief efforts and for allowing us to be a part of this program for the third year," said Danna Robinson, communication manager for Harris Teeter. "Fresh produce is scarce in food banks across the country, and we are happy to be able to contribute nutritious items to those in need."
"Three years of making a difference in the community through Peaches with a Purpose means a lot to Titan Farms," said Chalmers Carr, president of Titan Farms. "We really appreciate having Harris Teeter as a partner in the fight against hunger."
The food bank is scheduled to begin distributing these peaches to schools and other populations on Friday, August 28, 2015.
Harris Teeter and Titan Farms would like to offer a special thanks to Salem Produce, LLC for helping transport the donated product.
About Titan Farms
Based in Ridge Spring, South Carolina, Titan Farms is the premier grower, packer and shipper of over 2.4 million boxes of fresh peaches, broccoli and bell peppers annually. Titan Farms recognizes the importance of sustainable agriculture practices, and uses them to benefit America's consumers and to protect our country's precious natural resources.
The team at Titan Farms has an extraordinary commitment to providing only the safest, highest-quality produce for their customers.
Titan Farms brings modern farming and old fashion values together to put the highest-quality fruits and vegetables on your table.