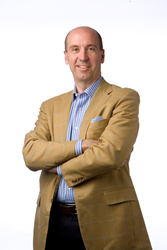 The greatest change in the near future will be the rate of change itself.
Nashville, TN (PRWEB) August 27, 2015
Futurist Jack Uldrich travels the world discussing the notion that, "the greatest change in the near future will be the rate of change itself."
On Monday, August 31st Uldrich will speak to FCC Services Rethinking Risk: 2015 RAAW Conference. Uldrich will share his presentation "The Big AHA: "How to Future-Proof Your Business Against Tomorrow's Trends, Today" in Nashville, TN.
In his enlightening, energetic, entertaining and educational session, global futurist Jack Uldrich will share the content from his forthcoming book, "Business as Unusual: The Big AHA." He will focus on making his audience aware of twelve trends transforming the world of tomorrow, explaining why a healthy dose humility is essential in contemplating the future; and concluding with identifying a series of concrete actions leaders can take today in order to future-proof themselves, their business and their state against "the tides of tomorrow."
Jack Uldrich is a well-recognized global futurist, speaker, and author of 11 books, including a number of award-winning best sellers. He is a frequent speaker on technology, change management and leadership and has addressed hundreds of corporations, associations and not-for-profit organizations on five continents. He regularly makes television appearances on the Science Channel's "FutureScape" program and the Discovery Channel show "Inside Out," and is a frequent guest on major media outlets, including CNBC and National Public Radio.
He is also an ongoing contributor on emerging technologies and future trends for a number of publications, including The Wall Street Journal, Forbes, Wired Magazine and Business Week.
A former naval intelligence officer and Defense Department official, Uldrich previously served as the director of the Minnesota Office of Strategic and Long-Range Planning. His most recent book is Foresight 20/20: A Futurist Explores the Trends Transforming Tomorrow and his forthcoming book is Business as Unusual: How to Future-Proof Yourself Against Tomorrow's Transformational Trends, Today.
Parties interested in learning more about him, his books, his daily blog or his speaking availability are encouraged to visit his website.