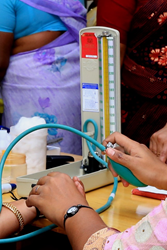 Microfinance services should be complemented by education, training, and other programs that help poor families battle chronic poverty and social exclusion
Washington, D.C. (PRWEB) August 27, 2015
The Microcredit Summit Campaign welcomes ESAF Microfinance as the 57th organization to make a Campaign Commitment. ESAF joins a global coalition that includes actors like BRAC, the ILO, and the Government of Ecuador and is working to help 100 million families lift themselves out of extreme poverty.
ESAF is strongly committed to its vision of uplifting the poor and vulnerable communities through access to high quality and client-focused financial and non-financial services. ESAF provides an array of such services to 750,000 low-income families across nine states in India, and it has developed client-centric policies, strategies, and approaches so that clients' lives are transformed holistically.
Chairman and managing director, K. Paul Thomas, explains why their commitment includes a number or programs addressing multiple aspects of the client's life such as health. "ESAF's vision and mission very clearly emphasize on holistic transformation of its poor clients," he said, "and, we are convinced this cannot be achieved unless their health issues are addressed."
ESAF and the Campaign strongly believe that microfinance services should be complemented by education, training, and other supporting programs that help poor families battle chronic poverty and social exclusion. For example, in partnership with the Campaign, ESAF trained community health workers to provide health education and front-line screening services for non-communicable diseases to poor communities.
During 2015-2016, ESAF will reach out to new clients with its products and services through a comprehensive set of actions they commit to, including measuring poverty levels of 200,000 clients using the Progress out of Poverty Index® and increasing to 50 percent the total proportion of clients who are from historically disadvantaged scheduled castes and tribes (as defined by the Government of India).
ESAF further commits to provide tens of thousands of women and their families with access to leadership and empowerment training, children's educational programs, financial literacy, awareness of clean energy products, and more. They will additionally target persons with disabilities. Through their work, ESAF commits to improve clients' sanitation with at least 50 percent of clients purifying drinking water and 75 percent of clients having access to their own toilet.
Read the ESAF Microfinance Campaign Commitment letter to learn more.
The Microcredit Summit Campaign's 100 Million Project is building a movement among financial services stakeholders committed to helping to end extreme poverty. Public statements of commitment to action, expanding practices to reliably measure movement out of extreme poverty, and promoting innovations and best practices to accelerate movement out of poverty are key to achieving this goal.
###
The Microcredit Summit Campaign (the "Campaign"), a project of RESULTS Educational Fund, is the largest global network of institutions and individuals involved in microfinance and is committed to two important goals: 1) reaching 175 million of the world's poorest families with microfinance and 2) helping 100 million families lift themselves out of extreme poverty. The 100 Million Project (focused on Goal 2) was launched in response to World Bank President Jim Yong Kim's call to end extreme poverty by 2030 and in recognition that full financial inclusion can only be achieved by targeting the extreme poor. For more information on Commitments and the 100 Million Project, visit our website or write to mycommitment[at]microcreditsummit[dot]org.
In early 2016, the Microcredit Summit Campaign will host the 18th Microcredit Summit in Abu Dhabi. The agenda will focus on "Mapping Pathways out of Poverty" and will feature innovations from the Africa-Middle East Region.
ESAF Microfinance is one of the premier microfinance institutions in India today, particularly in Kerala, effectively empowering 750,000 members through 160 dedicated branches. The founder of ESAF ventured into microfinance in 1995, by organizing self-sustainable groups, to alleviate poverty and generate employment. Since then, ESAF has grown by leaps and bounds in the microfinance sector, promoting microfinance as a viable, sustainable, and effective means for creating jobs and reducing poverty.