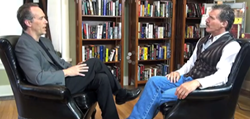 "Writing has taught me how to be naked. In a book like this, you open your heart and soul…and then you give it to people who then say 'I can see into you.' That's powerful
Seattle, WA (PRWEB) September 01, 2015
Have you ever thought about the impact you have on other people and the world around you? Do you ever wonder what legacy you will leave behind and why revealing one's self is so important in finding that legacy?
Carew Papritz, also known as "The Cowboy Philosopher," addresses these questions and more in the five-time national award-winning book The Legacy Letters. The only book in publishing history to win awards in both fiction and nonfiction categories, The Legacy Letters reveals to us the rediscovered private letters from a dying father to his children—and his wife.
In a recent interview with Bill Kenower of Author Magazine, Papritz exposes the "naked" truth about life and legacy. Offering advice to writers, Papritz explains, "Writing has taught me how to be naked. In a book like this, you open your heart and soul…and then you give it to people who then say 'I can see into you.' That's powerful. The nakedness is a craft. I have to show myself honestly. I have to be forceful, careful, smart and ultimately genuine with my words."
As seen by his writings and songs in The Legacy Letters, Papritz is fascinated with the human condition and chronicles it by immersing himself in all its endless variations.
About Bill Kenower:
Bill Kenower, editor-in-chief of Author Magazine, has interviewed over 350 authors in his career including NY Times best-selling authors, Cheryl Strayed, Andre Dubus III, Jodi Picoult, and Amy Tan. Kenower is highly regarded for his smart and sophisticated interview style. He is always interested in the intersection of creativity and everyday life which he portrays in each interview. He is the author of "WRITE WITHIN YOURSELF: An Author's Companion".
About Carew Papritz
Best-selling author Carew Papritz left his career as a film maker in Hollywood to become a cowboy on a ranch in the Southwest. He is now known as the "Cowboy Philosopher" and his latest book, The Legacy Letters, is a 5-time national award-winner. A Renaissance Man in an age that lauds the specialist, The Huffington Post says Papritz "intrigues and enlightens charms and catalyzes change for every reader."
The Legacy Letters can be purchased at: Barnes & Noble, and Amazon
Watch the full interview
To schedule an interview with Carew Papritz, email Arden(at)farrowpr(dot)com or call 866-949-6868