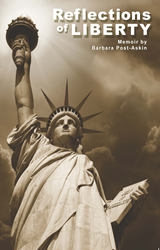 Only if we understand our past, can we move forward to a brighter future.
Clearwater, FL (PRWEB) August 27, 2015
Barbara Post-Askin, author of "Reflections of Liberty," a memoir that recently became inducted into the Brooklyn Historical Society, was introduced as a guest speaker at the Pinellas County School Board "District-Wide" training day, this past week. This event was held at Countryside High School in Clearwater, Florida.
As students were preparing to go back to school, in Pinellas County, teachers were getting prepared as well for the big day.
Last week, the educators participated in a daylong training session that Barbara was honored to be a part of , as one of the guest speakers. She spoke about her book, "Reflections of Liberty," and how essential it is that young minds learn about historical events, such as World War II and The Great Depression. Her words were heard by a packed room and ended up running out of books.
Throughout the school year, she will be visiting schools in the county to talk to students directly about her book and the importance of history.
Barbara's message was clear: that students NEED to hear about history from the people that witnessed it. That if we don't teach our children about history, we're doomed to make the same mistakes over again. That "only if we understand our past, can we move forward to a brighter future."
Barbara Post-Askin was born June 5, 1931 and grew up in Brooklyn, New York during the Great Depression and World War II. During her childhood years, she treasured the many hours she spent listening to survivors of the Civil War on the radio. It helped her to understand the sacrifices made not just for her but also for everyone living in this country. Barbara's journey through these challenging times inspired her thirst for history, and validated the power of liberty on which America was built.
In her memoir, the stories of Barbara Post-Askin illuminate the forgotten potential of the American people as she recaptures the memories of struggles and triumphs during many of the darkest years of this country's history. These tales of experience take us back to a time when freedom, hard work, perseverance, and family connections were the undeniable rights of our young nation's population. From the steam ships that carried hopeful immigrants to this new land of opportunity, to the tragedies surrounding the brutality of World War II, "Reflections of Liberty" takes readers on a journey of national, spiritual, and personal revival. Braided with humor and romance, but also fear and uncertainty, her stories remind readers of the power of interpersonal trust and connection, while also shedding light on the dangerous parallels that are becoming ever more visible between today's political climate and that of an early 20th-century America.
Barnes and Noble 5-Star Review
"Mrs. Post-Askin's book, 'Reflections of Liberty,' is a modern-day history classic. 5 out of 5 stars for the magnificent portrait of American history!"
To see more reviews or to order the book, please visit:
http://www.barnesandnoble.com/w/reflections-of-liberty-barbara-post-askin/1119389518?ean=9780991301331
To stay connected with Barbara, please visit:
http://www.Facebook.com/BarbaraPostAskin