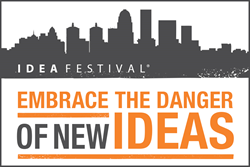 IdeaFestival focuses on big questions and ideas, that inspire, challenge and are sometimes dangerous. Kris Kimel, Founder
Louisville, Kentucky (PRWEB) August 27, 2015
IdeaFestival® 2015, a leading celebration for disruptive thinkers and the intellectually curious, releases this year's full agenda and announces national sponsors and media partners. The Festival boasts over 35 speakers and performers who will inspire, entertain and encourage discovery, imagination and bold new ideas from Sept. 29th - Oct. 2nd, at The Kentucky Center for the Performing Arts. Festival Passes are currently on sale for $400. Prices increase on September 1st.
This powerful event brings together an impressive list of emerging and well-known influencers from four continents and a variety of disciplines including science, the arts, design, business, film, technology, education and much more – all working towards the convergence and exploration of how ideas shape our future.
Additional presenters and influencers announced for this year include world-renowned astronomer Bob Berman, economist and internationally bestselling author, Daniel Altman, grandson of Nelson Mandela, Co-Founder & Chairman of Africa Rising Foundation, Ndaba Mandela, tech entrepreneur Maci Peterson, poet and combat veteran Maurice Decaul, philanthropist and founder of Moon Express and InfoSpace Naveen Jain, INC magazine editor James Ledbetter, and artist and creator of The Vesper Project, Titus Kaphar.
IdeaFestival Founder Kris Kimel says, "IdeaFestival focuses on big questions and ideas, that inspire, challenge and are sometimes dangerous. Dangerous in the sense that they are disruptive, often challenge the status quo, risky and can be transformative. In fact, IdeaFestival encourages attendees to embrace the danger of new ideas."
This "big question" approach has resulted in sponsorships and media partnerships with influential national sponsors including the Kentucky Innovation Network , Delta Dental, the University of Louisville and the Kentucky Science and Technology Corporation along with award-winning media partners, INC and MIT Technology Review.
Visit ideafestival.com to learn more and register.
About IdeaFestival®
Founded in 2000, IdeaFestival® is a celebration for the intellectually curious. It's an eclectic network of global thinkers and one-of-a-kind innovators bound together by an intense curiosity about what is impacting and shaping the future of the arts, business, technology, design, science, philosophy and education. The Festival is held every fall in Louisville, Kentucky at The Kentucky Center. The setting, thought-provoking sessions and informal tone make IdeaFestival a truly unique experience. Those who attend leave the event with interesting new ideas, a better sense of connectedness, an expanded network of relationships and lasting inspiration to help create change in the world.
Follow us @ideafestival and #IF15 to get the latest updates on speakers, sessions and affiliate events. #staycurious