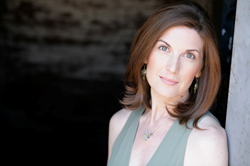 I am humbled and thrilled to have a career that allows me to pursue my passions in performance and executive presence coaching.
New York, NY (PRWEB) August 31, 2015
Author Daniel Pink has said, "The MFA is the new MBA." Actress and executive coach Catherine Glynn, who has two MFAs in theatre from UT Austin and the University of Delaware's PTTP, is living proof of that statement.
Six months ago when Glynn began developing her idea for her new one woman show "Miss Myrna Davenport's Poetry in Motion,"* she had no idea that it would earn her the esteemed Southeastern Minnesota Arts Council Established Artist Grant that she received last week. In addition to the SEMAC grant, Glynn was also recently selected to develop and teach three new presentation and presence skills workshops at one of the world's top ranked business schools.
For Glynn, the parallel between business and the arts are clear. She says, "Performers and executives compete for roles and contracts all the time. Iin order to excel in either sector developing presence is crucial. I have focused a great deal of my career on learning what presence is and how to develop it in others."
"A peak performance for me," says Glynn, "often takes the form of a solo performance." Glynn began her career performing "The Belle of Amherst"--a one woman show about the poet Emily Dickinson-- in college. Since then she became a member of Actor's Equity and SAG/AFTRA and has performed in hundreds of stage productions, several of which have been one woman shows.
Throughout her career she has been striving find ways to both express and monetize her true voice. From all appearances Glynn is doing just that. Glynn and her company Voce Veritas (which means true voice in Latin) have been the coaches of choice for several Fortune 500 companies and leading academic institutions.
"Being chosen to teach these new workshops, in addition to the one on one coaching we've been providing for PhD students, is precisely the kind of validation that makes me feel like I am on the right path. I am humbled and thrilled to have a career that allows me to pursue my passions in performance and executive presence coaching."
Glynn says, "To be able to perform and teach in a multitude of settings, like the rural community of Lanesboro where I live with my husband, to major metropolitan areas like Chicago and New York, is a great gift." Glynn is a firm believer in practicing what she preaches and she envisions working with more business schools in the near future. At some point she intends to combine her coaching with a performance or two. "That would be an incredible way to confirm that the business world and the arts are aligning in the best possible way."
Or, perhaps one of these days, one of the business professionals that Glynn coaches will be the person to produce her next show on Broadway. Either way it's clear Catherine Glynn is turning out peak performances as an actress and as an executive coach and earning accolades as she goes.
*This activity is made possible by the voters of Minnesota thanks to a legislative appropriation from the arts & cultural heritage fund.