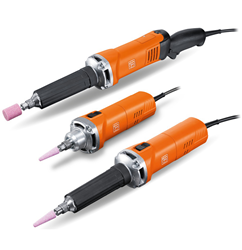 Ergonomic design with a large plunge depth, available in three performance classes
Pittsburgh, Pennsylvania (PRWEB) September 17, 2015
FEIN has revamped its range of die grinders and is the only manufacturer to offer a comprehensive range across all performance classes. The new FEIN die grinders are very ergonomic and their large plunge depth makes them particularly well suited to work in difficult-to-reach spots, mainly in the construction of tools, molds, and tanks or stainless steel processing. Variable speeds allow various tools to be used for deburring, sanding, cleaning, removing rust, brushing, satin-finishing or polishing. The new FEIN die grinders are currently available in the US.
Innovations from FEIN
FEIN has more than 100 years of experience in developing electric grinders. The new die grinders are ergonomic and designed for metalworking, especially with regard to their plunge depth: FEIN's 6 – 13/16" (173 mm) long, slim collar bearing has the largest plunge depth on the market, allowing the user to access difficult-to-reach spots on the inside of narrow pipes. The long collar bearing can be fully gripped with one hand and therefore guided with comfort and reliability. The rubberized collar bearing cover can be replaced with ease if dirty or damaged. The patent is pending for the single-part collet developed by FEIN. The collet's all-round collar protects the work piece from damage and prevents the open-ended spanner from sliding off when changing the tool. The collet is available in either steel or stainless steel. The tool mounting will hold tools with a diameter of 3, 6, 8 mm, and ¼". Die grinders with the FEIN ErgoGrip concept are now also available.
Die grinders with 350 W rated output: FEIN GSZ 4
The light weight ergonomic die grinders of the FEIN GSZ 4 product range are especially well suited to light-duty sanding and polishing work, even in difficult-to-reach spots. The tools are equipped with a 350 W FEIN motor and remove large amounts of material. Their slim line housings with a soft grip zone and weight of just 3.3 lbs (1.5 kg) make them the lightest tools in their class. The FEIN die grinders are available in two versions: The GSZ 4-280 EL die grinder with its variable speed of between 13,000 and 28,000 RPM, is suited to rapid work on robust materials. The GSZ 4-90 EL die grinder runs at 3,500 to 8,500 RPM, the ideal speed for sanding and polishing stainless steel work pieces. The tools replace the Msh 636-1 and AHSI 636 c die grinders.
Die grinders with 750 W rated output: FEIN GSZ 8
The powerful, ergonomic FEIN die grinders of the GSZ 8 product line have a rated output of 750 W and the five models offer flexible use. The die grinders are equipped with POWERtronic tacho electronics. With a variable speed of 8,500 to 28,000 RPM, the FEIN GSZ 8-280 PE and GSZ 8-280 PEL models are highly versatile. The GSZ 8-280 P and GSZ 8-280 PL die grinders run at a speed of 28,000 RPM. The FEIN GSZ 8-90 PEL is fitted with a gear reduction and is therefore particularly powerful in the speed range of 2,500 to 9,000 RPM.
Die grinders with 1010 W rated output: FEIN GSZ 11
The most powerful FEIN die grinders for heavy-duty grinding, sanding and polishing work can be found in the GSZ 11 product line. The tools have a 1010 W FEIN motor and feature the new FEIN ErgoGrip concept for fatigue-free working: Tools aren't gripped or held around the motor housing like rod-shaped tools, but are held by the extension of the narrow neck. The die grinders with FEIN ErgoGrip are very ergonomic and make continuous work possible. The FEIN GSZ 11-320 PERL die grinder was designed for speeds of 9,500 to 32,500 RPM, while the GSZ 11-90 PERL model operates in a speed range of 2,900 to 9,900 RPM.
The FEIN GSZ 11-320 PRL die grinder runs at a high speed of 32,500 RPM. They replace the former FEIN MShe 648-1, MSh 648-1 and MShy 648-1Z models.
Reliability and a long service life
FEIN is the only power tool manufacturer committed to its German roots. The company develops, manufactures and assembles all its die grinders at its headquarters in Schwäbisch Gmünd-Bargau. A special coating protects the field coil, armature and electronics from abrasive dusts and ensures a long tool and service life. The powerful FEIN GSZ 8 and 11 die grinders run at a high and stable speed, even under load, delivering optimum results. FEIN, the inventor of the power tool, supplies all its die grinders with an H07 industrial cable, 13 ft.(4 m) in length. The perfectly balanced ergonomics of the new die grinders and low vibration enable fatigue-free working – even in continuous use.
FEIN die grinders are available at specialty dealers. Find suppliers at: http://www.feinus.com/en_us/dealer-repair/
The company:
C. & E. Fein GmbH invented the world's first power tool. Wilhelm Emil Fein founded the company in 1867. FEIN invented the first power tool – the electric hand drill – in 1895. Today this long-established company is a power tool manufacturer with an international reputation. This first-class German manufacturer develops and produces application solutions for the metalworking, interior construction, and automotive sectors and is the specialist for professional and extremely reliable power tools for industry and trades. FEIN holds more than 800 active property rights including approximately 500 patents and patent applications. FEIN products are distributed worldwide through 19 international subsidiaries and more than 50 agents. For over 140 years, the FEIN brand has stood for application solutions and premium quality.
http://www.feinus.com