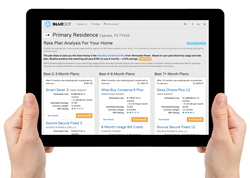 BlueDot's Rate Plan Optimizer is the first online service of its kind that is unbiased, honest and secure. And it's free.
Dallas, TX (PRWEB) August 28, 2015
Over one thousand Texas electric utility customers have reduced their electric bills by 51% on average by using the free Rate Plan Optimizer from BlueDot.
For years, Texas customers have been offered a huge array of hundreds of electricity rate plans. The problem is that each plan has its own fee structure, and making an "apples to apples" comparison so difficult that most customer simply stay with their current utility company.
Today, these customers have a powerful new tool to cut through the confusion: BlueDot Rate Plan Optimizer is a free online application that finds rate plans that will save customers the most money, based on the actual electricity usage patterns of their individual homes. Over a thousand Texas customers have signed up for the service at https://bluedot.com.
Getting a personalized Rate Plan Report is quick and easy: after registering on the BlueDot site, you follow the online prompts to link your utility company account to your BlueDot account. The BlueDot system crunches the numbers on hundreds of rate plans to find the ones best suited for the way your home uses electricity. Soon you will receive a personalized report showing short-term, mid-term and long-term rate plans that will save you the most money, each with a projected savings and customer satisfaction rating.
"BlueDot's Rate Plan Optimizer is the first online service of its kind that is unbiased, honest and secure." said Dean McDaniel, BlueDot's CEO. "BlueDot gives equal weight to all rate plans listed by the Public Utility Commission of Texas -- we're not trying to steer you to a particular utility. Recommendations are based on the way your home actually uses energy; not arbitrary estimates. Finally, BlueDot safeguards your private information and never sells it to third parties. And it's free. We work hard to earn and keep your trust."
Robert Poor, Chief Science Officer for BlueDot offered some caveats. To use BlueDot, he said, you must live in a "deregulated" area of Texas where you have a choice of electric providers. You'll need an online account with your existing electric provider, and must have had service with that provider for at least one month -- BlueDot uses that to accurately estimate your electricity use. Finally, BlueDot assumes your next year's electrical usage will be the same as your previous year's usage: large increases or decreases in usage can skew the results.
"Caveats aside," said Poor, "the results for BlueDot have been spectacular. Among our early adopters, we are finding an average of 51% potential savings for each customer. And customers can confidently choose a low-cost short-term plan because they know BlueDot will always find another great plan when their current plans expire."