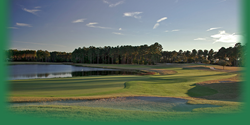 "This is a great honor for Brown Golf to have cracked the Top 25 largest management companies in such a short period time." John Brown, Chairman & CEO, Brown Golf Management
Bluffton, South Carolina (PRWEB) August 31, 2015
In less than five years since the launch of Brown Golf Management, the company has earned recognition from Golf Inc. Magazine as one of the largest golf management companies in the world.
Brown Golf Management was ranked No. 24 in the 2015 list of the largest management companies in golf. Golf Inc. Magazine released its annual rankings based on the portfolio's 18-hole equivalencies.
"This is a great honor for Brown Golf to have cracked the Top 25 largest management companies in such a short period time," said John Brown, the company's chairman and CEO.
"This honor is a strong motivational factor for us to continue our rapid growth. This could not have been achieved without the great people in our company."
Brown, a PGA master professional and former Troon Golf executive, has been recognized as a turnaround specialist in today's demanding golf industry, which has triggered interest from struggling golf facilities all over the country.
In today's economy, golf and country clubs have felt a colossal impact that has led to closures and management opportunities for experienced operators. Brown Golf has concentrated its company and reputation on results, which have continually created new business ventures.
John M. Brown, COO of the company and son of the chairman, said, "We focus on establishing great relationships with our clients and delivering them the results they desire. We feel our processes and fundamental structures provide owners the key pieces to turning their facilities around."
Brown Golf Management has offices in Bluffton, S.C., and Harrisburg, Pa. The company manages 27 courses throughout six states. To learn more, about this breakthrough company, visit its website at http://www.BrownGolfManagement.com.