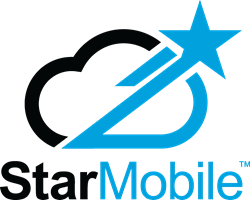 The theme of VMworld 2015 is 'Ready for Any?', which presents an amazing opportunity for StarMobile to showcase how we solve the 'app gap' between application virtualization and endpoint security and control
San Francisco, CA and Atlanta, GA (PRWEB) August 31, 2015
StarMobile®, Inc., the leading codeless, cloud-based platform that delivers enterprise mobility faster, simpler and at a lower cost than any other solution on the planet, today announced their solution for mobilizing applications for VMware® customers at VMworld® 2015 US.
End users no longer want to consume enterprise applications just from PCs, they want to be able to consume any application from any endpoint (be it smartphone, tablet, PC, watch or "thing") with a user experience that is native to that device. Whereas application virtualization is fast, simple, economical and secure, the user experience on a PC is poor, and is untenable on mobile devices. StarMobile mitigates this "app gap" between application virtualization and endpoint security and control.
StarMobile is showcasing their latest release, StarMobile 3.0, which enables VMware customers to:

Transform any packaged on-premises or cloud-based application, or custom-built system, into a mobile app with a native user experience.
Develop net new "mobile first" apps by connecting with APIs, data connectors, SQL, web services and mBaaS.
Extend enterprise application to all endpoints - smartphone, tablet, PC, watch or "thing."
Leverage a reusable library of nearly 1,000 app patterns to accelerate the configuration of mobile apps.
Access real-time and historical app analytics, usage statistics, and instance management to gauge performance and mobile app adoption.
Deploy the StarMobile platform on the VMware vCloud Air public cloud.
No coding required, and no changes to existing applications.
Integration with the AirWatch enterprise mobility management platform.
VMworld is a leading virtualization and cloud infrastructure event, bringing together thought leaders, subject matter experts, and IT professionals to immerse themselves in the latest in virtualization, mobile and cloud technology. StarMobile is currently showcasing their enterprise mobility solution at booth #1637 in the New Innovator Pavilion of the Solutions Exchange.
"The theme of VMworld 2015 is 'Ready for Any?', which presents an amazing opportunity for StarMobile to showcase how we solve the 'app gap' between application virtualization and endpoint security and control", said StarMobile President and CEO Todd Fryburger. "StarMobile helps VMware customers to dynamically transform any application for use on any endpoint. Moreover, StarMobile presents all the benefits of application virtualization - speed, simplicity, economy and security - but goes further to deliver a native user experience with native device integration at the endpoint. No other solution in the industry can do this today."
StarMobile was recently named a "Cool Vendor in Mobile App Development, 2015″ by Gartner and an Emerging Vendor by CRN. To schedule one-on-one meetings with the StarMobile executive team or to see a live demonstration of the StarMobile platform at VMworld 2015 US, contact kristen@starmobileinc.com or visit booth #1637.
About StarMobile
StarMobile is a codeless, cloud-based solution that delivers any application to any endpoint, with a native user experience, faster, simpler and at a lower cost than any other approach. Companies use StarMobile to dynamically transform any packaged on-premises or cloud-based application, or custom-built system, into a mobile app. StarMobile requires no changes to existing applications, no coding, no need for exotic skills or learning a new platform, no professional services, no re-building, simple configuration, low maintenance, no re-licensing, no app-specific downloads, with infinite scalability, end to end security, centralized mobile app management and provisioning, and detailed usage statistics, for any application, any use case, any endpoint, on any public, private or enterprise cloud platform. http://www.starmobileinc.com