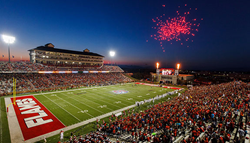 Lynchburg, Va. (PRWEB) August 26, 2015
Liberty University Athletics has announced the television coverage plan for the upcoming 2015 football season, which includes broadcast opportunities for all 11 games on the Flames' schedule.
Liberty has experienced tremendous television coverage in recent years, as each of its football games has been broadcast since 2011.
The Liberty Flames Sports Network (LFSN) will cover Liberty's season opener against Delaware State (Sept. 5), as well as the Flames' road contest at Southern Illinois (Sept. 26) and Homecoming game against Big South newcomer Kennesaw State (Oct. 24).
LFSN broadcasts will be available in the local Lynchburg/Roanoke/Danville markets on WFFP-24. Additionally, LFSN coverage of Liberty football will be available on The Walk Network with more than 200 stations across the country. All LFSN broadcasts will continue to be available on the Big South Network and through ESPN3.
Liberty's Sept. 12 contest at West Virginia will be broadcast on Root Sports Pittsburgh, an affiliate of the Fox Sports Networks (Dish Network Channel 428; DirecTV Channel 659).
The American Sports Network (ASN) will begin its second year of Big South coverage in 2015, including Liberty's game at Gardner-Webb (Oct. 10). In the local Lynchburg market, the game will be broadcast on WSET's 13.2 channel.
The Big South Network will provide coverage of Liberty's contests against Montana (Sept. 19), Monmouth (Oct. 17) and Presbyterian (Nov. 7). All three games will also be available on ESPN3.
Liberty's regular season finale against Coastal Carolina has been moved to Nov. 19. The Thursday night contest will be broadcast on ESPNEWS, marking the first time a Liberty football game has aired on one of the main ESPN networks.
For more details on game coverage, visit Liberty's Athletics website.
About Liberty University
Liberty University, founded in 1971, is the largest private, nonprofit university in the nation, the largest university in Virginia, and the largest Christian university in the world. Located near the Blue Ridge Mountains on more than 7,000 acres in Lynchburg, Va., Liberty offers more than 450 unique programs of study from the associate to the doctoral level. More than 200 programs are offered online. Liberty's mission is to train Champions for Christ with the values, knowledge, and skills essential for impacting tomorrow's world.