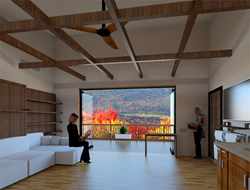 "Attendees are now looking to spot Resource Furniture's innovations when touring these amazing homes."
New York, NY (PRWEB) August 27, 2015
Resource Furniture is proud to announce the sponsorship of both the U.S. Department of Energy Solar Decathlon and seven of the competing teams. The Solar Decathlon challenges collegiate teams to design, build and operate sustainable homes. By collaborating with Resource Furniture, named "the biggest retailer in the multi-functional space in the U.S." by The Wall Street Journal, the homes are not only energy-efficient and cost-effective, but also maximize square footage without exceeding space limitations.
This year's competition will take place from Oct. 8-18 in Orange County Great Park in Irvine, CA, where homes designed and built by 14 finalist teams are selected from around the world. The teams spend over two years planning, proposing and executing their homes and once in Irvine, the homes will be judged by a panel of experts on a range of factors including comfort, market appeal, energy efficiency and affordability. The winning team will have successfully balanced energy production and consumption with an efficient, well-designed home. Half of the competing homes will feature efficient transforming furniture made in Italy by Clei, distributed exclusively in North America by Resource Furniture.
The goals of the Solar Decathlon are aligned with those of Resource Furniture – to support, promote and educate people about sustainable and efficient living solutions. According to the Commission for Environmental Cooperation, North American homes, offices and other buildings contribute more than one third of the continent's greenhouse gases, proving the need for the housing solutions designed by Solar Decathlon participants. By challenging students internationally to think critically about how we live, this competition is providing up-and-coming scientists, engineers and architects with hands-on experience in designing our future.
"After the success and excitement surrounding the award-winning teams we sponsored in 2013 and in Solar Decathlon Europe in 2014, increasing our participation this year seemed simply essential. Attendees are now looking to spot Resource Furniture's innovations when touring these amazing homes," said Ron Barth, president of Resource Furniture. "We are proud to support this competition that fosters a real-world, practical, affordable approach that can be applied right now to housing solutions and promotes the values we have held for many years."
Resource Furniture and Clei solutions will appear in homes from international teams including Alfred University and State University of New York at Alfred College of Technology; California Polytechnic State University; Crowder College and Drury University; New York City College of Technology; Stevens Institute of Technology; The University of Texas at Austin; and Western New England University, Universidad Tecnológica de Panamá, and Universidad Tecnológica Centroamericana.
On Sunday, Oct. 18, at 9:30 a.m., Resource Furniture is hosting the victory breakfast for all competing teams and supporters to congratulate participants on their efforts with a keynote from President Ron Barth onsite at Orange County Great Park in Hangar 244.
The Solar Decathlon is free and open to the public from 11 a.m. to 7 p.m. over two consecutive weekends: Thurs, Oct. 8 – Sun., Oct. 11 and Thurs, Oct. 15 – Sun., Oct. 18.
This latest venture comes as only one of Resource Furniture's non-profit and charitable initiatives. The organization has sponsored and collaborated in designing a course at Georgia Tech, sponsored organizations participating at the U.S. Green Building Council's Greenbuild International Conference and Expo, as well as exhibitions at the Museum of the City of New York, support of the Citizens Housing & Planning Council and many more.
ABOUT RESOURCE FURNITURE
Resource Furniture is the original – and largest - source for cutting-edge, multi-functional living systems in North America, offering the most inspired and innovative furniture solutions available in the world for more than 14 years. With showrooms in New York, Los Angeles, San Francisco, Toronto, Vancouver, Calgary, Montreal and Mexico City in Resource Furniture continues to redefine and revolutionize the industry by offering the most technologically innovative, space-saving and sustainable products in the world, all of which transform any space with both beauty and functionality. Visit resourcefurniture.com.
ABOUT CLEI S.R.L.
Clei s.r.l. , based in Italy, has been fusing high design, innovation and patented technology with smart and stylish furniture solutions since 1962. Their modern and easy to use transforming wall bed systems are the result of a company philosophy with strong emphasis on research, creativity, and engineering, with fully integrated, modular sleeping, storage, seating, and working solutions. Clei systems are available in North America exclusively at Resource Furniture. Visit clei.it.