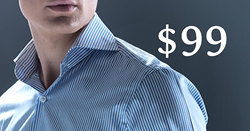 New York, New York (PRWEB) August 27, 2015
Sebastian Ward's shirts, including innovations such as a high collar stand to frame the face, longer sleeves to enable greater mobility and a longer tail to ensure an all-day-tuck, exemplify a commitment to creating elegant yet functional clothing that lets the wearer be confident and comfortable.
"The shirts we had encountered were either too tight-fitting which caused it to be too restricting to movement, too short at the tail which caused them to come un-tucked easily, or the collars were flimsy which caused them to collapse and be less impressive. " says Creative Director Christopher Berry of his inspiration for the innovative design of Sebastian Ward's NYC designed and made in USA dress shirts.
Customers love our shirt saying things like "I love the visual impact that my Sebastian Ward dress shirts create. I've gotten great compliments."
"Features like excellent construction, a good fit, and a design that blends classic shirting qualities with a fresh outlooks are hallmarks of a great "go-to" shirt. It's the shirt that you want to wear, fits right, and somehow makes you feel especially put together." wrote Off The Cuff, a leading menswear blog, when reviewing the shirt.
Another satisfied customer wrote "I love the fit and the collar. I love wearing it unironed with a sports coat. I love wearing it untucked. I like the message simplification. Of wearing this shirt everyday for the rest of my life."
Sebastian Ward's dress shirts are designed in New York City, produced in Newark, NJ by Mel Gambert Shirts, the same company that produced Michael Douglas's shirts in the original Wall Street film. The shirts are made of Italian cotton with custom designed Australian Mother of Pearl Buttons and interlining from Wendler in Germany.
Sebastian Ward dress shirts are currently available online at http://www.sebastianward.com.
About Sebastian Ward
Sebastian Ward is an NYC based fashion company that specializes in mixing Italian and English style to create the ideal garment.
Sebastian Ward's first product is a men's dress shirt designed to be stylish and comfortable.