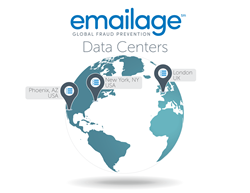 Our new data center features a state-of-the-art network, environmental infrastructure, and a diverse UK grid connection.
Chandler Arizona (PRWEB) August 31, 2015
This month Emailage continued their worldwide expansion with the launch of a new European data center in the United Kingdom. Emailage, the global leader in risk assessment based on a non-intrusive single data element, is committed to providing a fast and safe location for European customers. Emailage already holds the Safe Harbor certification and the new data center is Cyber Essentials Certified.
On top of this Cyber Essentials Certification the new data center utilizes the latest practices for fault tolerance and has implemented the PCI DSS 1, ISO 9001, BS7799, ISO 270001, and SSAE 16 security and compliance standards. "Our new data center features a state-of-the-art network, environmental infrastructure, and a diverse UK grid connection." said Rafael Loureiro, Emailage's Chief Technology Office. Loureiro also stated that " We have a specially trained and highly experienced engineering staff managing the facility 24 hours a day, 365 days a year." Loureiro made it clear that there will be no additional work or fees to use this new data center; traffic will automatically be routed. He further said that "Emailage has always aimed to give customers the best technology and now we have made it even easier for our European customers."
This is Emailage's third data center, with the two other data centers located in the United States.
The United Kingdom data center is already live for European customers to take advantage of the speed increase and higher compliance ratings.
Key Features of the New European Data Center:

Emailage European data is now Cyber Essentials Certified.
Emailage is Safe Harbour Certified.
The new data center is ISO27001, ISO9001 certified and has BS7799 Compliant.
SSAE16 and PCI Level 1 Service Provider Certified.
Tier III Standards Compliant
Faster response speeds for our European customers.
No additional cost for upgraded services.
No work required, data is automatically routed to the nearest and location appropriate server.
About Emailage: Emailage provides intelligent fraud risk assessment using email address as the key data element to identify transactional risk and streamline transaction approvals. Our solution leverages its vast global consortium of data across all industries and utilizes powerful machine learning methods to interpret the key elements and characteristics of a fraudulent transaction. We are a scalable, enterprise SaaS technology that can be easily implemented and integrated through API or into existing fraud platforms to provide customized scoring rules that fit any workflow. Email addresses are universal data points that are already collected during most transactions. Put emails to work with Emailage to assess risk quickly, prevent fraud globally, and increase revenue. For more information, please visit our blog at https://www.emailage.com/blog/european-data-center-launch/.