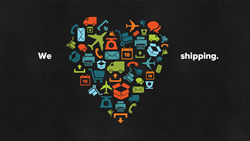 This integration underscores our continued investment in our global network, and the importance of e-commerce to our growth in Canada.
Austin, TX (PRWEB) August 27, 2015
Today ShipStation, the leading web-based e-commerce shipping solution, announced an integration with DHL Express (Canada),Ltd.
ShipStation's e-commerce merchants based in Canada will now be able to ship to customers around the world, using ShipStation's best-in-class software and DHL's delivery service. ShipStation helps e-commerce merchants, no matter where they sell online or how they ship, dramatically reducing the amount of time spent on the order management, label creation and shipping and fulfillment process.
"This integration underscores our continued investment in our global network, and the importance of e-commerce to our growth in Canada," said Andrew Williams, CEO DHL Express Canada. "As our business continues to grow, so do our efforts in providing our customers the best platforms and services to expand their businesses."
ShipStation's Canada-based customers can now connect their DHL Express account to ShipStation in seconds, empowering Canadian online sellers to use the following features in ShipStation:

Access to Contract Rates: Print labels using the merchant's own negotiated shipping rates to take advantage of cost savings
Free Electronic Signature on every package: Every package shipped through DHL Express automatically receives free Electronic Signature
Insurance: Choose to include carrier insurance with any shipment
Automated Customs Docs: ShipStation will automatically fill customs documentation to make international shipping a breeze
Billing: Allow shoppers to use their own DHL Express rates by using bill to a third party and bill duties and taxes to the recipient features
Paperless Customs Docs: ShipStation uses DHL's Paperless Trade Technology eliminating the need to print paper and save costs
In addition to these features, ShipStation offers the automatic importing of your online orders from wherever you sell. Once the merchant fulfills the order, ShipStation automatically submits the DHL Express tracking information back to the online store or marketplace to update the shipping status on the order and notify the customer with shipment tracking information.
"Our Canadian customers are important to us," says ShipStation's VP of Marketing, Robert Gilbreath. "By offering a feature-rich integration with DHL we are helping those customers to become exceptionally efficient at fulfilling orders, wherever they sell and however they ship."
About ShipStation
ShipStation is the leading web-based shipping solution that helps e-commerce retailers import, organize, process, package, and ship their orders quickly and easily from any web browser. ShipStation features the most integrations of any e-commerce web-based solution with approximately 75 shopping carts, marketplaces, package carriers, and fulfillment services. Integration partners include eBay, PayPal, Amazon, Etsy, Square, Shopify, BigCommerce, Woocommerce, Magento, Squarespace, and carriers such as USPS, UPS, FedEx and DHL. ShipStation has sophisticated automation features such as automated order importing, custom hierarchical rules, product profiles, and fulfillment solutions that enable its customers to complete their orders, wherever they sell, and however they ship. For more information, visit http://www.shipstation.com.
About DHL
DHL is the leading global brand in the logistics industry. DHL's family of divisions offer an unrivalled portfolio of logistics services ranging from national and international parcel delivery, international express, road, air and ocean transport to industrial supply chain management. With more than 325,000 employees in over 220 countries and territories worldwide, they connect people and businesses securely and reliably, enabling global trade flows. With specialized solutions for growth markets and industries including e-Commerce, technology, life science and healthcare, energy, automotive and retail, a proven commitment to corporate responsibility and an unrivalled presence in developing markets, DHL is decisively positioned as "The logistics company for the world".
DHL is part of Deutsche Post DHL Group. The Group generated revenues of more than 56 billion euros in 2014. For more information, visit http://www.dhl.com/.
###