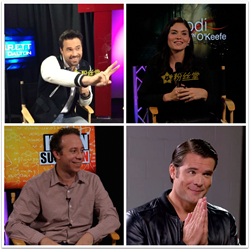 Los Angeles, CA (PRWEB) August 27, 2015
FansTang-produced original entertainment program This Week in Hollywood reached 11 million views for its July episodes on Sohu.com, one of China's top digital platforms. Since its launch in May 2015, the show has averaged over 2 million views and 10 million social media impressions per episode.
FansTang, China's largest provider of non-studio Hollywood entertainment content, has partnered with Sohu.com to stream, on demand, This Week in Hollywood to viewers. Uniquely designed with the Chinese market in mind, each weekly episode features exclusive celebrity interviews, fun skits, and the latest entertainment news and trending topics of the most China-relevant Western celebrities across film, television, music, and sports based on FansTang's leading China-focused Western analytics platform. It is currently the most watched Hollywood entertainment news and celebrity interview show in China, featuring recent guests including Colton Haynes (Arrow), Ian Somerhalder (The Vampire Diaries), Chloe Bennet (Agents of S.H.I.E.L.D.), Lizzie Caplan (Masters of Sex), Dominic Purcell (Prison Break), Jennifer Morrison (Once Upon A Time), Linkin Park and many more.
In addition to Sohu's extensive marketing of the show, each episode also receives widespread promotion across FansTang's official WeChat and Weibo accounts that reach over 120 million Chinese followers.
FansTang CEO Adam Roseman commented, "Our focus is not only on bringing top-tier, relevant Hollywood content to the Chinese fans, but also helping Western celebrities develop enhanced brand awareness in the booming Chinese market. This Week in Hollywood is doing exactly that, by achieving both in a single, well-produced piece of entertainment programming that is digital first with heavy social media support. This is why it reaches the most attractive brand and movie theater going demographic in China. It is a pleasure to work with our partners at Sohu on this programming, a continuation of nearly 3 years of close collaboration with them."
About FansTang
FansTang, wholly owned by China Branding Group Limited, is the largest provider of localized international live events content, social media content, and non-studio Hollywood and related video content into the China marketplace. FansTang also maintains the most robust international content data platform that services a growing portfolio of major clients including studios, Hollywood agencies, international ad agencies, and brands.
For additional information, please visit http://www.fanstang.com
About Sohu.com
Sohu.com Inc, is China's premier online brand that is indispensable to the daily life of millions of Chinese. It provides a network of Web properties and community based/Web 2.0 products which offer the vast Sohu user community a broad array of choices regarding information, entertainment and communication. Sohu has built one of the most comprehensive matrices of Chinese language web properties and proprietary search engines, consisting of the mass portal and leading online media destination http://www.sohu.com; the interactive search engine http://www.sogou.com; the developer and operator of online games http://www.changyou.com/en/ and the leading online video Website tv.sohu.com.