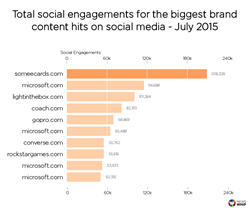 "Our rankings of top brand content hits on social media are packed full of insights, showing which brands are mostly smartly delivering content and product pages that resonate with their audiences online." - Will Bancroft, Marketing Director - NewsWhip
New York, NY (PRWEB) August 27, 2015
To help marketers learn from the world's best content marketing brands, NewsWhip has released a new report and rankings, investigating the brand content which accumulates the most engagement across social media.
These rankings feature leading brands, such as Microsoft, Coach, GoPro and Converse, revealing a range of key insights for marketing professionals:

SomeEcards, Microsoft and Lightinthebox.com responsible for the largest content hits, earning 1st, 2nd and 3rd places in the rankings
Microsoft the only brand to achieve more than one position in the top 10
The biggest brand content hit, from SomeEcards, features a poem left in a London bar
SomeEcards' content hit was also a piece of crowd generated content, smartly exploited
Product and product ranges account for six of the biggest 10 content successes
Read the full report and view rankings tables on the NewsWhip blog.
About NewsWhip:
Based in Dublin, Ireland, and New York, NewsWhip is a social media analytics platform, powering a suite of trending analytics products used by journalists and editors, marketers, and communications and PR professionals.
NewsWhip's best-known product, Spike, is a dashboard for analyzing real-time social velocity and trajectory of content and content marketing themes. Spike predicts 79% of future viral news and content and is used by clients such as: BBC, BuzzFeed, DigitasLBi, Edelman, Fleishman Hillard, Huffington Post, Intel, OMD, Mastercard, Wells Fargo and Yahoo!.