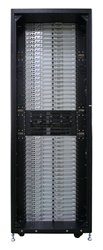 The building blocks of the AIC Smart Rack are compute nodes, storage server nodes and JBOD nodes.
City of Industry, CA (PRWEB) August 28, 2015
AIC announced that it will provide live demonstrations of its new Smart Rack architecture at VMworld beginning August 31, 2015. This particular Smart Rack cloud solution demo is based on OpenStack with Gemini Open Cloud from Gemini Open Cloud Computing and Federator SDS from ProphetStor. Together, they constitute a ready-to-deploy appliance for cloud services. Gemini and ProphetStor are partnering with AIC to provide these solutions.
These days, organizations require the ability to rapidly deploy servers to better support their operations during expansion. To that end, AIC equipment gives companies the operational efficiency and ease of management they need to remain nimble and competitive while meeting the expectations of their employees and customers alike.
The building blocks of the AIC Smart Rack are compute nodes, storage server nodes and JBOD nodes. These nodes are designed so customers can mix and match them in the rack to run different applications. By giving them this flexibility and ease of deployment, AIC enables users to quickly set up and then manage the right combination for their various computational and data storage requirements.
Chief markets for AIC Smart Racks include data centers of both public and private cloud computing services providers, telecommunications service providers and research institutions.
AIC Smart Racks are also suitable for a variety of special applications for enterprises, oil, gas and mining companies, bioinformatics firms, hospitals and research facilities. Such organizations all must collect, generate and store enormous amounts of data. They need robust server and storage solutions with state-of-the-art management capability to give them the lowest TCO.
Benefits of Using AIC Smart Racks:

Better thermal solution, with fans for all nodes forming a wall of zones for ease of management.
Improved power efficiency using platinum power modules.
More reliable management with redundant, remote capability.
Expressly built for data centers, with front I/O and access to all nodes for easier servicing.
Partnerships for Success
"Our partnership with ProphetStor Data Services marked a major milestone in our long-term effort to transition from a pure-play hardware supplier to a solution vendor. Together, we offer our customers a unified platform that can be introduced into any existing cloud computing environment and provide management, monitoring, automation, and a host of data services across many disparate storage arrays that are traditionally incompatible with one another," said Michael Liang, AIC Inc. CEO.
The Smart Rack solution couldn't have come at a better time. Another new AIC partner, Patrick Fu, CEO of Gemini Open Cloud Computing, said, "as the prominence and complexity of cloud service increase, service operators need an abstraction and management layer that focus on cloud services instead of virtual machines."
Fu also noted that "Gemini Open Cloud provides a rich set of cloud service management features on top on the widely adopted OpenStack infrastructure. Combined with space and energy efficient smart rack servers from vendors like AIC, a telco provider can provide an efficient hosting infrastructure that far outperforms the traditional co-location model for service operators. The telco provider can take the greatest advantage of both hardware and software at the same time."
Members of the press and other interested parties are invited to see AIC's demonstrations of the Smart Rack solution at VMworld, which is slated to run from 8/31/15 to 9/3/15 in San Francisco.
About AIC
AIC is a leading provider of both standard OTS (off-the-shelf) and OEM/ODM server and storage solutions. With expert in-house design, manufacturing and validation capabilities, AIC's products are highly flexible and configurable to any form factor, standard or custom. AIC leads the industry with nearly 20 years of experience in mechanical, electronic, system-level engineering as well as a dedication to innovation and customer satisfaction. Headquartered in Taiwan, AIC has offices and operations throughout the United States, Asia and Europe.