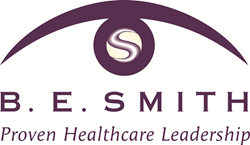 Burt is a dynamic and collaborative healthcare executive who brings a strong business acumen as well as a successful clinical background.
LENEXA, Kan. (PRWEB) August 27, 2015
After conducting a nationwide executive search led by healthcare leadership solutions firm B. E. Smith, Ephraim McDowell Health in Danville, Ky., has hired Burt Piper, as chief operating officer. A veteran healthcare executive with more than 20 years of successful leadership experience, Piper will assume his new duties on September 28.
"Burt is a dynamic and collaborative healthcare executive who brings a strong business acumen as well as a successful clinical background," said Vicki A. Darnell, president and chief executive officer Ephraim McDowell Health. "His proven track record building physician relationships and patient-centric focus will be a great asset to the system and the community."
Prior to joining Ephraim McDowell Health, Piper held progressive leadership roles at Franciscan Saint Margaret Health in Hammond, Ind. He served most recently as vice president of ancillary services, but was previously director of pharmacy, materials management and telecommunications. Other leadership roles in his career included serving as director of pharmacy with Porter Memorial Hospital in Valparaiso, Ind.
"Ephraim McDowell Health was seeking a dynamic, experienced healthcare executive to lead interdisciplinary collaboration and continue to drive the system's commitment to service excellence," said Kathy Noland, vice president of senior executive search for B. E. Smith. "Burt's clinical experience and leadership style were the perfect match."
Piper earned his Doctorate of Pharmacy from Mercer University School of Pharmacy in Atlanta, Ga. He holds a Master of Business Administration from Ball State University in Muncie, Ind. He is a Fellow in the American College of Healthcare Executives (ACHE), and is also a member of the American Society of Health-System Pharmacists (ASHP).
About Ephraim McDowell Health:
Ephraim McDowell Health is a comprehensive, integrated healthcare delivery system that serves more than 119,000 residents from six counties in central Kentucky. Whether receiving treatment at Ephraim McDowell Regional Medical Center, Ephraim McDowell Fort Logan Hospital, or one of the 45 convenient clinic and health services sites, individuals can count on receiving excellent care. Ephraim McDowell Health's mission is to provide a healing environment in the communities they serve, built on the best people, practices and performance. Visit http://www.emhealth.org for more information.
About B. E. Smith:
Founded in 1978, B. E. Smith is a full-service healthcare executive search firm and one of the top-ranked providers of senior-level leadership services including Interim Leadership, Executive Search and Advisory Services. Veteran healthcare recruiters and regional healthcare experts partner with each client to create customized solutions. B. E. Smith's proven methodology has resulted in the recent placement of more than 1,000 leaders into healthcare organizations worldwide. The firm utilizes a comprehensive sourcing strategy incorporating the latest marketing techniques, association partnerships, social networking and one of the largest databases of skilled senior-level healthcare executives in the industry to deliver immediate results in today's complex healthcare environment. For more information, visit BESmith.com or call 855-254-8261.