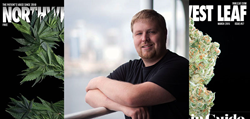 I view the plant as a gift to us and I've never thought that we needed sex to sell a plant or sex especially to sell a medicine.
(PRWEB) August 28, 2015
In the latest episode of the Ganjapreneur podcast — an ongoing series of interviews featuring successful cannabis entrepreneurs and experts — show host Shango Los sat down with Wes Abney: founder, editor, and publisher of 'The Northwest Leaf.'
'The Northwest Leaf' is a medical cannabis industry magazine based out of Washington. Founded in 2010, the magazine experienced so much success that Abney decided to found a second publication in 2014: The Oregon Leaf.
In the interview, Wes and Ganjapreneur host Shango Los discuss how the cannabis industry is switching from conducting business through prohibition-era isolation and paranoia to a willingness to come out in the open and address the greater public directly.
"You're going to be putting yourself in the public eye for something that just a few short years ago you would've been scared to tell anyone but your closest friends or family that you did," says Wes. "It's definitely a major shift for a lot of people, but on that same note it's also very exciting."
Another aspect of 'The Northwest Leaf' that Wes takes very seriously is its responsibility to the portray the industry as a professional and self-mediated environment. Wes believes that cannabis specific media outlets should "set the record straight" when the mainstream media butchers the topic.
Additionally, Wes shares his experience working with advertisers in the cannabis industry. "We're working always to refine people's messages in their advertising and make sure that obviously there's nothing derogatory, nothing of a sexual nature," he says.
"I view the plant as a gift to us and I've never thought that we needed sex to sell a plant or sex especially to sell a medicine."
The full podcast is available via the iTunes store, or on Ganjapreneur.com. A full transcript is included for reference.
About Ganjapreneur:
Ganjapreneur.com launched in July 2014 and has since established a significant presence in the cannabis business world. The website regularly publishes interviews and commentary from leading minds in the industry, and has also launched a B2B business directory, a live feed of job listings from marijuana job boards, a domain name marketplace for start-ups and venture capital firms, and a mobile app for Apple and Android devices which aggregates daily cannabis industry news, business profiles, and other information.