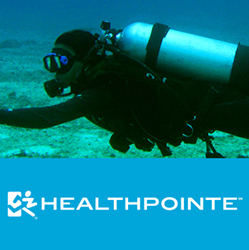 it is vital that all recreational and professional divers undergo regular comprehensive scuba physicals
La Mirada, Ca (PRWEB) August 28, 2015
Healthpointe clinics throughout Southern California are now administering medical evaluations for those seeking to go deep sea diving. The act of recreational diving exposes the body to extreme changes in pressure, possible oxygen toxicity, and decompression sickness; for these reasons, it is vital that all recreational and professional divers undergo regular comprehensive scuba physicals. Healthpointe's scuba physicals are available within Los Angeles County, Riverside County, Orange County, and San Bernardino County.
Healthpointe's initial scuba physical examination consists of chest radiographs, electrocardiograms, a pulmonary function test, urinalysis, audiogram, and various other tests that determine the patient's eligibility for diving. Additional testing may be administered if the Healthpointe physician determines the presence of any pre-existing diseases or possible pathology in the diver.
Scuba physicals should be completed prior to beginning any diving activities. Exams are considered valid for 5 years for those under the age of 40, 3 years for those between the age of 40 and 59, and 2 years for those 60 and older. Medical evaluations should also be completed following any major injuries or illness.
For more information on scuba physicals or to make an appointment please call (800) 956-2663 or visit http://www.Healthpointe.net.
About Healthpointe:
Healthpointe is a leading multidisciplinary healthcare organization offering a full range of medical services in practice locations throughout Southern California (Los Angeles County, Orange County, San Bernardino County, and Riverside County). Healthpointe has locations situated in over 10 cities in Southern California including La Mirada, which is conveniently located by Whittier, La Habra, Norwalk, Cerritos, Buena Park, and Santa Fe Springs. As a highly regarded musculoskeletal group, we have a personal investment in the highest level of service, and we are proud of our record of excellence over the last four decades with private patients, injured workers, urgent care, personal injuries, and professional and non-professional athletes. Leading our organization is a dynamic team of healthcare professionals who continually strive to be at the forefront of medical innovation and healthcare service delivery. For more information, a complete list of services, and Healthpointe locations, visit http://www.Healthpointe.net