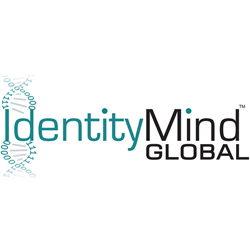 We wanted to dramatically affect how our clients operationalize compliance, and significantly reduce the cost of mitigating suspicious and fraudulent activity. This release strikes at the core of the issue.
Palo Alto, CA. (PRWEB) August 27, 2015
IdentityMind Global™, provider of risk management solutions for digital commerce, announced today the availability of version 1.20 of its flagship Fraud Prevention and Risk Management platform. This release addresses the operational burden created by regulatory compliance, sorting suspicious activity by urgency, and allowing institutions to quickly and effectively manage the investigation and decision process.
"Nearly 80% of those polled said regulatory compliance costs now comprise anywhere from 5 to 20 percent of their total operating costs."

Platform 1.20 further streamlines the detection of suspicious activity, reduction of false positives, and support processes for investigation and analysis of transactions. This latest release expands the platform's detection processes by:

Enriching the Anti Money Laundering rules both in scope and granularity
Strengthening support for Merchant Know Your Customer (KYC) and Enhanced Due Dilligence (EDD)
Deepening the scope and richness of Sanctions Screening across both users and merchants
Integrating the risk prevention rule system with a customizable scoring mechanism at a fundamental level.
These new features are seamlessly integrated into IdentityMind's existing entity link and reputation system, vetting detected activity against rich transactional data, historical activity, and analysts' past decisions. This vetting process focuses analysts' efforts on genuine fraud and laundering activity, and reduces the staggering numbers of false positives typical across the industry.
Suspicious activity requiring further investigation can be handled from the platform's updated case management system, which combines KYC, Transaction Monitoring, AML Policies, and real-time fraud analysis. Updated Case Management provides collaborative analysis and pre-populated Suspicious Activity Reports, as well as a clear and automatic audit trail for regulators and internal compliance to review.
"The cost of operationalizing compliance is hindering the industry's ability to realize the full potential of new digital commerce business models" said Garrett Gafke, IdentityMind President & CEO. "We wanted to dramatically affect how our clients operationalize compliance, and significantly reduce the cost of mitigating suspicious and fraudulent activity. This release strikes at the core of the issue. We are providing important features that cohesively tackle risk from detection, to investigation, to reporting."
The latest IdentityMind update provides leading compliance professionals and fraud analysts with a platform to design and operationalize cutting-edge compliance programs, or cost-effectively reinforce their existing program with enhanced visibility and detection.
Take a peek at the new features of IdentityMind Version 1.20 here.
This version of the platform is available immediately to clients worldwide. For more information about the features in this release, or the overall IdentityMind Global platform, please contact: evangelist@identitymind.com or sales(AT)identitymind.com.
About IdentityMind Global™
IdentityMind Global provides risk management and regulatory compliance solutions for the financial and digital commerce ecosystem. Our Fraud Prevention and Risk Management Platform provides financial institutions and online merchants with real-time capabilities to effectively address the operational challenges of conducting online financial and payment transactions. IdentityMind delivers integrated Fraud Prevention, Anti Money Laundering (AML), Know Your Customer (KYC), Merchant Underwriting and Transaction Monitoring.
IdentityMind's patent-pending technology Electronic DNA (eDNA™) recognizes identities based on electronic attributes and how these attributes are validated and correlated against each other. The platform shares eDNA™ across all our clients so they can all benefit while keeping identities and transactions private to each client. IdentityMind Global services clients worldwide including Banks, Money Service Business, Payment Service Providers, Virtual Currency Exchanges, Trading Platforms, and Online Merchants.
© 2015 IdentityMind Global. All rights reserved. IdentityMind, IdentityMind Platform, IdentityMind eDNA, IDMPay and the IdentityMind logo are trademarks or registered trademarks of IdentityMind Global, Inc. in the United States and other countries. All other brand, service or product names are trademarks or registered trademarks of their respective companies or owners.
IdentityMind Global™ is privately held. For more information please refer to http://www.identitymindglobal.com.