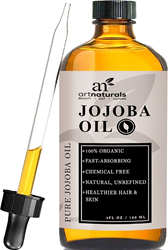 Jojoba oil is all I need for my beauty regimen...
(PRWEB) September 10, 2015
What if one product could replace an entire bathroom cabinet full of failed health and beauty treatments--for a fraction of the cost--and even comes with a guarantee? Art Naturals' Jojoba Oil is the one skin care treatment that will satisfy and succeed where other creams and lotions have failed. The qualities, benefits, and restorative advantages of Art Naturals' Jojoba Oil are well-documented:

100% Natural: Pure, Virgin, Cold Pressed, Unrefined, Organic
Perfect for DIY recipes: Body Butters, Lip Balms, Lotion Bars, Face Creams, Shampoos & Conditioners, Makeup Removers, Hair Treatment, Shaving Prep/Aftershave, and so much more!
Non-Greasy Moisturizer for the whole body
Smooth, gorgeous skin and radiant, silky hair.
Quickly Absorbed and Gentle
Non-comedogenic (causing acne): Scores 2/5 (moderately low).
Reviews are pouring in from all over the U.S. as customers using Jojoba Oil for hair, skin, and face experience beneficial results. Amazon.com reviewer chicklet2015 explains, "[Art Naturals'] Jojoba oil is all I need for my beauty regimen. I use this as a facial cleanser at night before I go to bed; it really cleans my skin and moisturizes it at the same time, and is so mild for my sensitive skin. I also use it everyday on my hair; I just rub the oil on my hands and apply it on my newly washed dry hair--it makes my hair soft and shiny. I also apply this on my hands and feet at night before I go to bed to moisturize my skin. This is all I need...such an amazing product!"
Art Naturals' Jojoba Oil organic is sustainable and its manufacturing practices create remarkable products that meet each customer's expectations for formulation purity. In fact, they strive for 100% Customer Satisfaction and have a 100% Money Back Guarantee! Additionally, Art Naturals is currently offering a limited time 51% off coupon code for purchasers. Customers are invited to take advantage of this incredible pricing and buy Jojoba Oil on Amazon.com and enter the discount code jojoba51 at checkout.
Ryan Jacobs, founder and CEO of Art Naturals, is committed to consistently innovating and producing health and beauty products that are 100% pure and organic. "I am especially proud of our Jojoba Oil," Jacob shares. "It is cold pressed, unrefined, and organic; the only step between harvest and bottle is filtering, which removes environmental impurities and ensures that the pure, virgin oil retains its amazing properties that promote clean, healthy skin and luxurious hair, and provides anti-inflammatory and moisturizing benefits."
Learn more about Art Naturals' Jojoba Oil on its Amazon.com page, like Art Natural's page on Facebook to stay on top of the most recent news and special offers, and watch its new video about Jojoba Oil on YouTube to receive coupon and discount codes.
About Art Naturals:
Art Naturals is a provider of all-natural, 100% pure and organic, artisan health and beauty treatments. Continually researching and experimenting, Art Naturals consistently seeks the healthiest, most natural ways to combat external and internal factors that adversely affect hair, face, skin, nails, and overall well-being. All products are backed by a 100% satisfaction guarantee – so if customers do not love the results, they can return their purchase for a full refund. Give the gift of Art Naturals' pure and organic health and beauty products today! Visit Art Naturals online to learn more about its natural solutions at artnaturals.com.