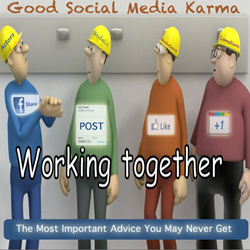 The MyGoodProfile team can offer clients a comprehensive service designed to ensure an online marketing strategy that delivers tangible results – not just hits and views
(PRWEB) August 31, 2015
Driven by client demand for new, effective online marketing programs from one source, Morris County, NJ based MyGoodProfile, a Social Media and Search Engine Optimization firm announced today that it has launched a full-service web design and digital marketing division.
Based in the company's New Jersey office, the Web-Design team will work hand in hand with other critical team members to offer a complete online–presence platform. The digital marketing and web design division will focus on helping brands establish an online presence by creating campaigns that connect them with targeted audiences across all media channels. The new service offerings include:

Website design, project management and development
Search engine optimization (SEO) using creative strategies
Various forms of online advertising including PPC
Press Release services
Content writing services for blogs and whitepapers
"MyGoodProfile has continued to expand by offering clients personalized service at an affordable price. As the agency grows and continues to add new clients the need to offer more services has become critical. The ability to service clients on multiple marketing initiatives allows for better campaign results. The MyGoodProfile team can offer clients a comprehensive service designed to ensure an online marketing strategy that delivers tangible results – not just hits and views.", said Ed Olimpio, Principal at MyGoodProfile.
MyGoodProfile's technology team is now lead by Ankur Aggarwal who brings years of experience deploying technology-enabled business solutions and services that enhance marketing initiatives. Ankur has an extensive background in ecommerce, app development, custom web design and development, search engine optimization (SEO) and search engine management (SEM).
"We have been engaged with MyGoodProfile for the past 18 months in the development and execution of an online marketing program and the results we have achieved have far exceeded our expectations", commented Therese Abrenica, Director of Business Development at Whitehouse Laboratories.
About MyGoodProfile
Located in Boonton, NJ, MyGoodProfile was founded in 2013 by Ed Olimpio. The firm manages marketing and technology functions, social media, public relations, and branding campaigns for local and national clients, covering a variety of industries. MyGoodProfile specializes in creating online programs and solutions tailored to the client's industry that offer enhanced ROI over traditional marketing programs.